The biggest hurdle in the way of productivity is procrastination and lack of time management skills. Whether you are running a business, head of a department, a part of a management team, or just a student, time management is a key to winning everything in your field.
And the best way to boost your time management skills and productivity, apart from shifting your mindset to not getting distracted, is to use time management tools.
The purpose of time management tools is to assist business owners in increasing productivity by properly organizing their time.
Becoming more productive, ability to make better and more powerful decisions, and wasting less time on reporting and invoicing are just a few of the benefits you will be getting by using the time management tools.
And as we know, time is the most valuable asset one can have. There are numerous time management solutions available. In this post, you'll discover which time management tools the most productive people in 2022 are utilizing.
9 Best Time Management Tools
Here is the list of the top 8 best time management tools to excel in your managing skills and increase productivity in your daily work routine.
1. Taggg – Time Management Software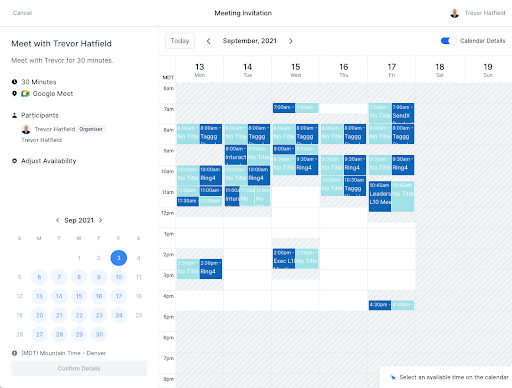 Taggg is the best meeting tool for organizing a group conference without having to switch back and forth between apps to confirm and schedule stuff.
This scheduling tool uses a calendar to quickly find meeting hours without the need for polling and voting and wasting hours of waiting for everyone to come and vote.
You can choose participants, discuss availability or unavailability with the group, and arrange the conference without any overlap or timing problems, whether you use Google or Microsoft as your calendar.
To plan your next video meeting with Taggg, you only need to follow three simple actions. After exchanging calendars with your peers, all you have to do now is start a new conference and invite participants, and Taggg will suggest you the best time for everybody.
Pros of Taggg:
Taggg actually shows a combined calendar and suggests mutual times that work for all users connected.
An easy three-step process to start a meeting.
Cons of Taggg:
There are not a lot of connections and app integrations yet in Taggg software.
2. Sunsama
Sunsama is a time management tool that is basically a cloud-based calendar that assists you in organizing your everyday tasks.
It assists you in prioritizing your daily tasks and events. Meeting notes can be included, and unfulfilled work will be carried over to the next day.
Sunsama's makers claim that it will help you prepare your day by combining your calendar, to-do checklists, and working from other programs such as Github, JIRA, Asana, Trello, Todoist, Slack, or Gitlab to produce an attainable set of activities.
Managers can organize and execute all tasks using an inbuilt kanban board, prioritizing work hour by hour. Managers may monitor the performance of all tasks for each member of the team, allowing them to know specifically what they are working on.
Sunsama integrates with Google Calendar to provide visibility into event timeframes and task completion percentages for teams.
Pros of Sunsama:
Email to task conversion.
Taskboard system to prioritize the important work first and easy visibility of day-to-day but important tasks.
Cons of Sunsama:
No browser extension.
Expensive for new companies and startups.
3. Toggl Time Tracker
Toggl is a simple time tracking solution that integrates with a variety of project management systems. It's the ideal complement to your available project management technologies for increasing your productivity over the day.
Toggl Track is a time tracking program that lets you track your daily activities across many platforms, giving you extensive insights and the ability to optimize your workflow by finding areas for improvement.
Toggl synchronizes data across all devices and platforms, converting all tracked figures into reports that you can access from anywhere.
You may view an overview of how much time you ended up spending on various tasks on the dashboard. Tags and colors help to display the information and make the statistics easier to comprehend.
Pros of Toggl:
Online and Offline time tracking system.
Multiple projects and subprojects for accurate time tracking.
Cons of Toggl:
There are limited features with calendar usability.
The timer feature should come with prompters that you could choose from, like a drop-down menu for 15, 30, 45, or 60 minutes that I could choose from to help prompt me to see if you are still working on the task and you can remember to end it sooner.
4. Focus Keeper
Focus Keeper is a study aid that uses the Pomodoro Technique. If you're unfamiliar with the Pomodoro Method, it entails studying for one Pomodoro (25 minutes), taking a five-minute break, then repeating until you've completed four Pomodoros. You'll take a lengthier break every four Pomodoros, usually between 15 and 30 minutes.
It offers a simple, straightforward user interface that can be readily customized to meet the project requirements, making it another fantastic time management software on our list.
Focus Keeper was created to improve your focus and alleviate any anxiety you may have about time constraints. If you want to keep yourself and your organization from being stressed out, this is an excellent software to utilize.
Pros of Focus Keeper:
You can set a goal for how many Pomodoros you want to complete in a given session.
You can freely adjust the number of minutes and breaks in your Pomodoros.
Cons of Focus Keeper:
You must upgrade to the premium edition of the app to alter the objective from the default of 12.
You must upgrade to the premium edition of the program to adjust the length of your breaks or Pomodoros.
5. DeskTime
DeskTime is a time tracking program for businesses and freelancers that works on both desktop and mobile devices. This includes comprehensive capabilities for measuring organizational performance, monitoring attendance, and managing workflows that improve performance at both individual and team levels.
DeskTime features project management app connections that allow users to link the time tracker to popular programs like Asana, Basecamp, Jira, Trello, and GitLab, as well as Google and Outlook Calendars.
DeskTime computer tracking software allows managers to monitor employees' performance on PC and Mac by recording and categorizing every site, tool, and program that is utilized. It is best for remote teams who need proper time management action plans to upscale their productivity.
Pros of DeskTime:
It tracked time in multiple applications, which you could set as 'productive,' 'unproductive,' and 'neutral'.
Desktime is a great way for employers to keep track of what employees are doing and use that data to enhance or adjust operations. With a hybrid remote workforce, you can easily see what everyone is working on, what hours they've worked, and how they are dividing their time between projects.
Cons of DeskTime:
Does not support overnight shift tracking.
High Costs make it difficult for startups to buy their paid plan. The 10$/user in the premium plan and 20$/user in the enterprise plan seem expensive as compared to other tools in the list here.
6. RescueTime
RescueTime is a simple desktop program, browser extension, and mobile app for keeping track of your time.
If you're not sure if you're making good use of your time, this time management planner tool will provide you with regular reports that show what's taking up your time.
This program includes distraction filtering and efficient reporting options in addition to automatic time monitoring.
It ranks your performance throughout the day depending on how often you spend on productive vs unproductive tasks and displays the results in simple, well-designed charts.
Pros of RescueTime:
Time is tracked in apps and websites and has excellent customization and reporting.
In the background, everything runs smoothly and quietly.
Cons of RescueTime:
Mobile applications need more development and work.
7. TimeCamp
TimeCamp gives you numerous options for tracking time and assigning it to tasks. The most prevalent is the manual timesheet, which allows users to either specify the task duration or utilize the timer in a traditional start/stop manner.
It makes use of time monitoring to bill clients, measure project profitability, and pay staff at the end of the month.
The time management function of TimeCamp automates computer usage tracking and creates productivity reports for each employee.
Additionally, the service sends out automated weekly emails that summarize work performed, time lost, effective hours, and lists of time-consuming sites.
Pros of TimeCamp:
Ease of use and ability to integrate with other platforms.
Accurate tracking, clean dashboard, and free to use for up to 5 users.
Cons of TimeCamp:
The mobile application needs development.
You will need the expensive paid version for full functionality if you are a large organization.
8. Akiflow
Akiflow is a time management app that uses the time-blocking approach to help users control their time and tasks in one view. By connecting the app with their most used tools, users can create a realistic schedule in the inbuilt calendar and task list, guaranteeing that they'll get everything done.
This tool assists users in organizing and prioritizing their tasks, guiding them to create a daily plan and sticking to it. It's can become your single source of truth: daily planner, meeting scheduler, and more. Akiflow currently integrates with Google Calendar, Slack, Asana, Todoist, ClickUp, and many other popular apps.
Pros of Akiflow:
Turn anything into a task.
Share your availability through bookable links.
Cons of Akiflow:
No browser extension.
Mobile version still in beta.
9. Homebase – Time Clock App
When it comes to tracking employee hours with precision, the time clock app by Homebase stands out. Designed for businesses of all sizes, this tool not only helps in recording work hours but also offers features that streamline the entire timekeeping process.
With an intuitive interface, even those not tech-savvy can clock in and out without any hassle. This app ensures that every minute is accounted for, providing accurate data for payroll. It can be easily integrated with other tools, making it a versatile addition to your time management toolkit.
Pros of Homebase Time Clock App:
Seamless integration with payroll systems.
Real-time alerts for early clock-ins or late breaks.
Accessible from multiple devices, ensuring flexibility.
Cons of Homebase Time Clock App:
Might require a learning curve for those new to digital timekeeping.
Advanced features might come with a premium price.
Bottomline
So, whether you are looking for overall time management software or just a calendar management tool, the above list includes what we believe to be the top time management applications and solutions available. And the best part is that a lot of them are entirely free!
So, what do you have to lose? Choose the ones that will be most beneficial to you and start increasing your productivity right away!