Key Takeaways
Consulting sales process refers to the set of activities and steps that consultants and consulting firms take to sell their services to prospects.
Successful consulting sales require a consultative approach that prioritizes understanding prospects and tailoring solutions to meet their unique needs and goals.
The essential steps of the consulting sales process include understanding prospects, building trust and rapport, identifying opportunities, presenting a solution, overcoming objections, and closing the deal.
Are you struggling to close consulting sales deals?
Do you want to learn how to sell your consulting services in an effective and entertaining way?
Well, you have come to the right place!
In the consulting world, selling your services is more than just closing deals. It is about building lasting relationships with prospects and delivering results that help their businesses grow.
But how do you successfully navigate the consulting sales process?
It starts with a consultative sales approach that prioritizes understanding your prospect's unique needs and tailoring your solutions accordingly.
In this article, we will dive into the essential steps for a successful consulting sales process, including building trust, identifying opportunities, and closing the deal.
Whether you are a seasoned consultant or just starting a consulting business, these consultative sales process steps can help you land more clients and drive business success.
Essential steps of a successful consulting sales process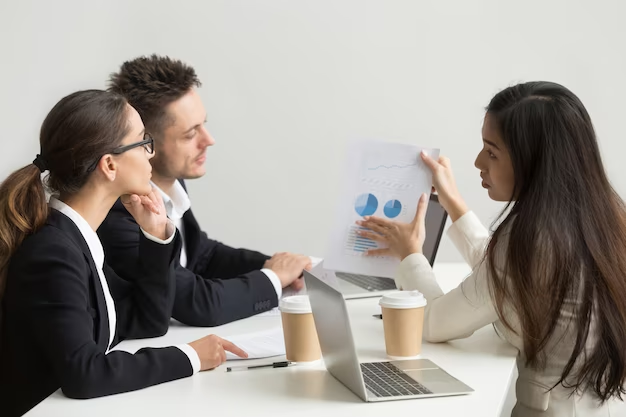 Below are the essential steps of the consultative selling process:
1. Understanding your prospects
The first step in the consulting sales process is to understand your prospects. It involves identifying your target audience, conducting market research as well as analysis, and creating buyer personas to understand your prospect's needs and goals.
Identifying your target audience means understanding your ideal customer, including demographic information, industry, company size, and pain points.
Market research and analysis involves gathering information about the market, including competitors, trends, and potential opportunities.
Creating buyer personas enables you to develop detailed profiles of your prospect's needs, goals, as well as pain points, which can help you tailor your approach and solution.
2. Building trust and rapport
Once you understand your prospects, the next consulting step is to build trust and rapport with them. This involves establishing credibility, developing relationships with prospects, understanding their pain points, and offering solutions.
Establishing credibility means demonstrating your knowledge and expertise in your field, which can be done through content marketing and speaking engagements.  
Developing relationships with prospects involves building trust as well as rapport through honest communication, active listening, and empathy.
Understanding your prospect's pain points and offering solutions means identifying their challenges and providing solutions that meet their specific needs.
3. Identifying opportunities
After you have established trust and rapport with your prospects, the next step of the consultative sales process is to identify opportunities.
This involves asking discovery questions, understanding the prospect's current state as well as desired outcomes, and uncovering any potential obstacles or objections.
Discovery questions help you gather information about the prospect's needs, goals, and challenges. It enables you to identify opportunities for improvement while understanding their current state as well as desired outcomes.
Uncovering potential obstacles or objections means identifying any potential roadblocks that may prevent the prospect from moving forward with your solution.
4. Presenting a solution
Once you have identified opportunities and challenges, the next step is to present a solution.
It involves tailoring your solution to the prospect's needs, communicating your value proposition clearly, and addressing any concerns or objections the prospect may have.
Tailoring your solution means customizing your offering to meet the prospect's specific needs, which requires a deep understanding of their pain points and goals.
Communicating your value proposition means articulating the benefits of your solution and how it can help the prospect achieve their desired outcomes.
Addressing concerns and objections means understanding the prospect's objections and offering solutions to overcome them.
5. Overcoming objections and concerns
Even with a great solution, prospects may still have objections and concerns that must be addressed.
It includes using techniques for addressing objections and concerns, leveraging the role of a sales process consultant in handling objections, and using a consultative selling process to overcome objections.
Techniques for addressing objections and concerns include acknowledging the prospect's concerns, asking follow-up questions, and providing additional information or proof points.
The role of a sales process consultant in handling objections involves providing guidance and support to the sales team on how to handle objections effectively.
Using a consultative selling process to overcome objections means continuing to build trust and rapport with the prospect while addressing their objections collaboratively.
6. Closing the deal
The final step in the process of consulting business is closing the deal.
This entails discussing future actions with the prospect, reaching a deal on the price as well as terms of the contract, and maintaining contact with the prospect to ensure a positive outcome.  
To move forward with the solution, it is necessary to outline the next steps, including deadlines, deliverables, and responsibilities.
Agreeing on pricing and contract terms means reaching a mutual understanding of the costs and terms of the engagement.
Following up with the prospect means ensuring that the solution is implemented successfully and addressing any issues that may arise.
Conclusion
In conclusion, mastering the art of the consulting sales process requires a combination of skill, strategy, and expertise.  
This guide outlines a consulting process that enables you to adopt a consultative approach to not only sell your consulting services but also establish strong relationships with your prospects. By following these steps, you can achieve success in your consulting endeavors.
Success depends on a series of crucial steps that include gaining a deep understanding of your target audience, establishing trust with them, presenting a customized solution, and successfully closing the deal.  
Remember always to put the needs of your prospects first and focus on delivering value. With the right mindset, approach, as well as execution, you can achieve success in the world of consulting sales and help your clients achieve their goals.