In our previous article regarding simple invoice templates, we discussed fabulous invoice designs that you can use for your business. In this article, we will be looking at 15 best estimate templates that you can try out for your business.
If an invoice can leave a great impression after the project completion, a well-designed estimate can leave a great first impression to get the project confirmed.
What is an Estimate?
An estimate is basically a rough calculation of possible invoice amount based on the information available at a particular time. For example, a client needs a logo design, website design, and some brochure designs from your company. You can give a rough estimate on how many hours it will take to complete the entire project and what will be the hourly rate.
Basically, an estimate is a way of letting your potential clients know the ballpark figure, so they can jump on a conclusion on whether to pick you for the project or not.
15 Simple Estimate Template Designs
Let's have a look at some simple estimate templates that we find very attractive and have used them in one way or another.
1. No Lines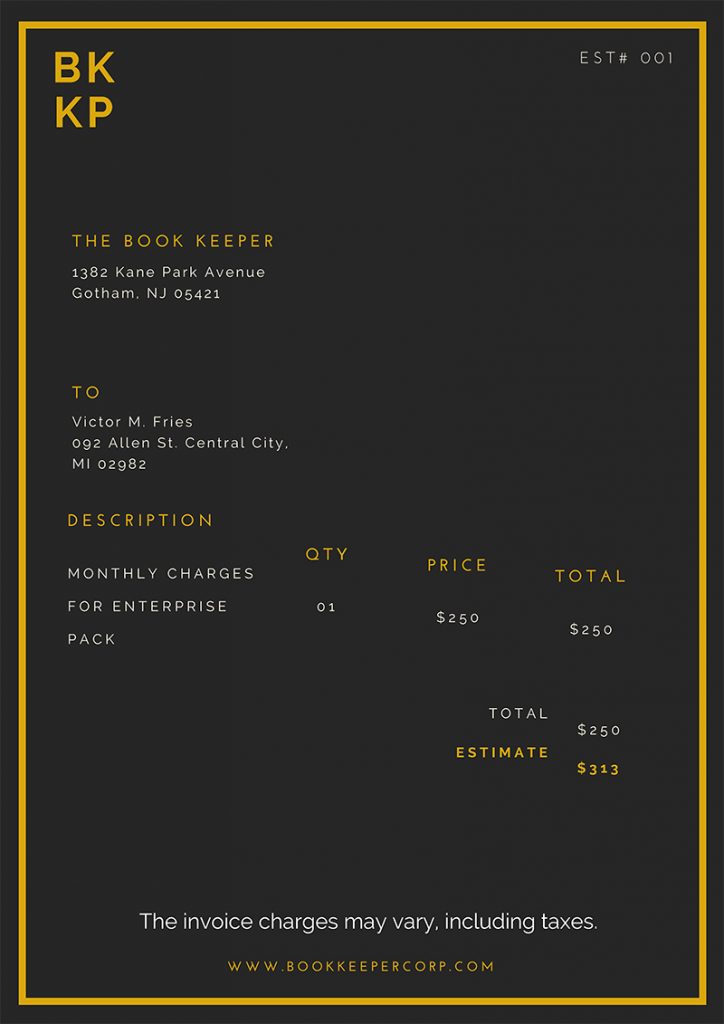 This estimate design consists of no lines whatsoever. Here, you can find two major colors making a great combination. You can also go for black & green or black & orange. These are the color combination that will never go out of style.
2. The Tuxedo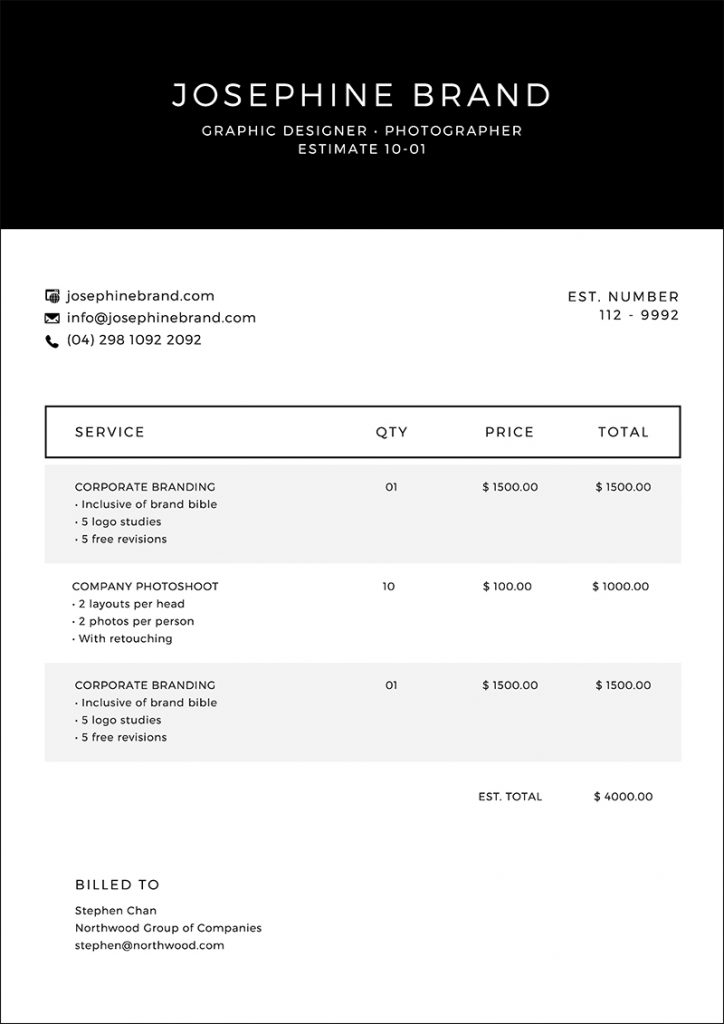 This is one of the classiest estimate templates we have ever used at MinterApp. The classic black & white gives a professional feel [kind of tuxedo too!]. There's enough space to mention all of your services and give an estimation cost. You should definitely consider this estimate template for your business, irrespective of your working industry.
3. Checkered And Blank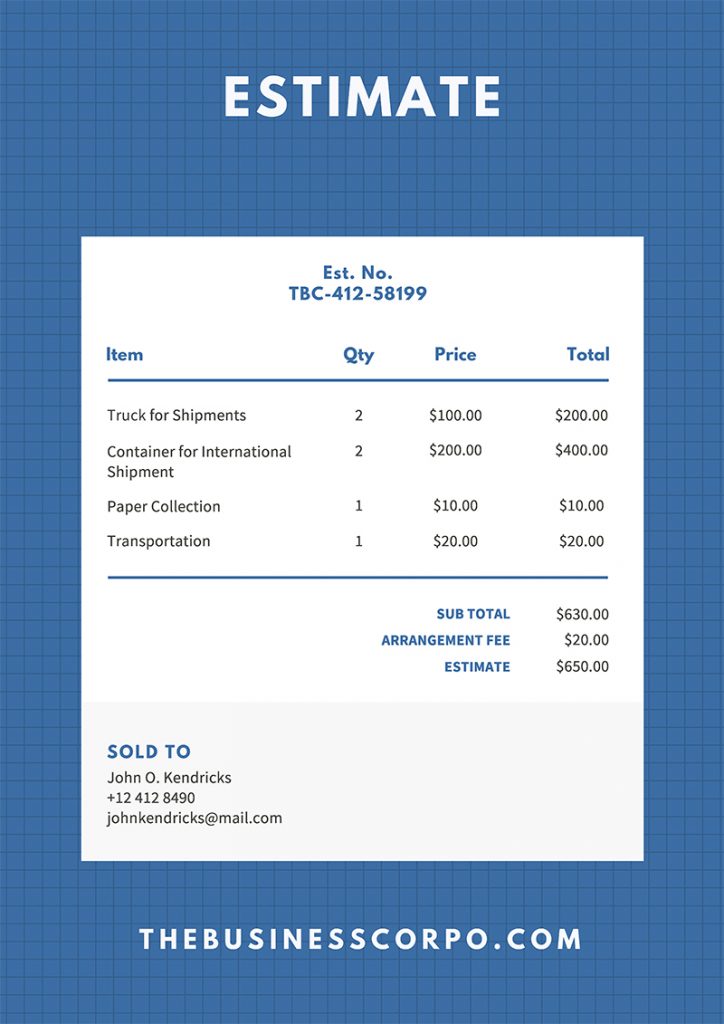 You can consider this estimate design as one of the most elegant styles of all times. No matter in what industry you're dealing, this could be a great estimate template for your business. The background is filled with checkered design, leaving space in the middle for numbers. You can make color variations in this design, but make sure to go with the same font color as the background.
4. Coffee & Cream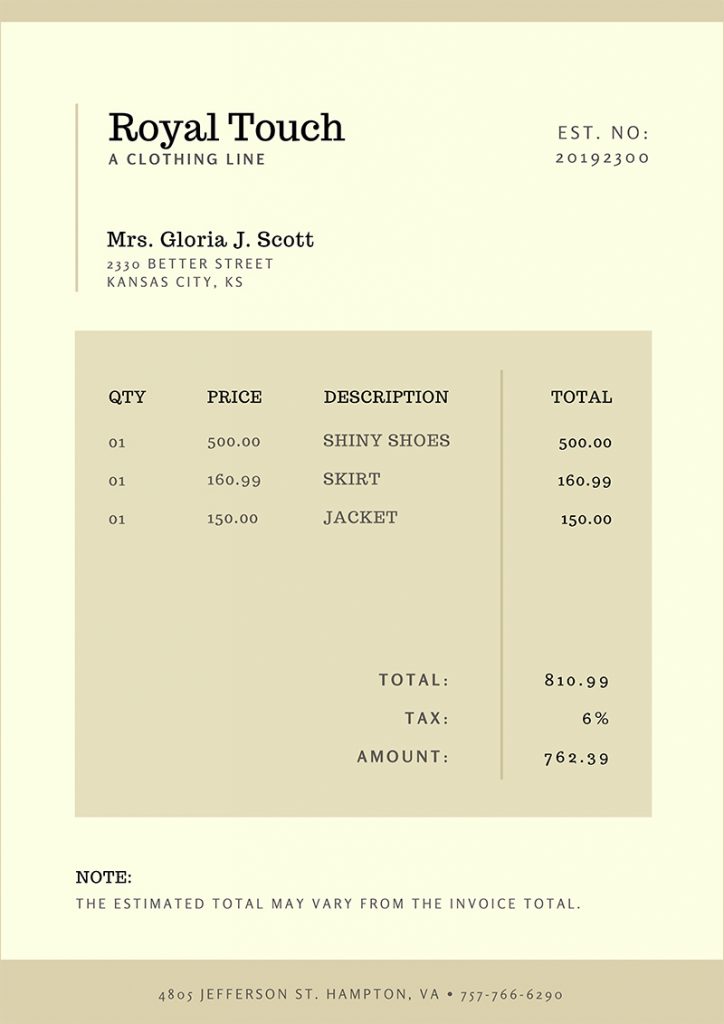 Here is another simple estimate template for your business. This would go perfectly well for the businesses that are dealing in the textile industry. The best font color for this estimate template is black. You can experiment with various font styles.
5. The Color Of Your Brand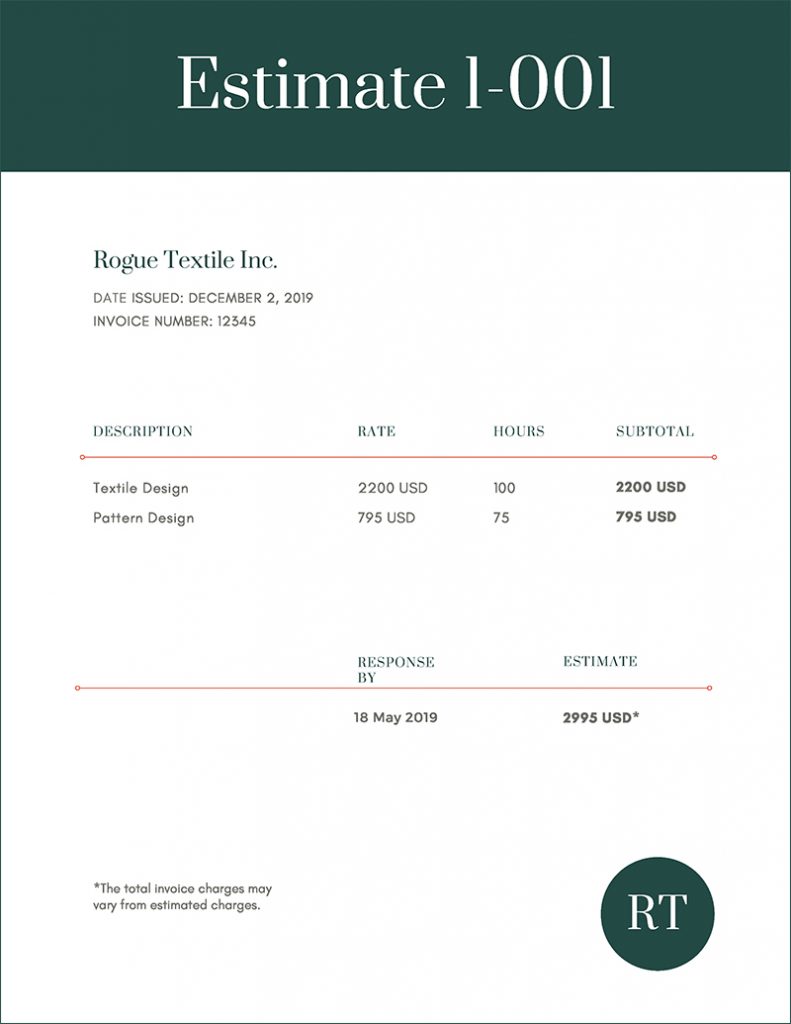 We had mentioned a similar design for invoice template in the previous article, and it goes tremendously well with your estimate design too. The best thing about this estimate design is, you can use the color of your brand in the header and the footer. With the combination of black font [Callibri or Times New Roman], you can leave a great first impression on your possible clients.
6. Brand Emphasised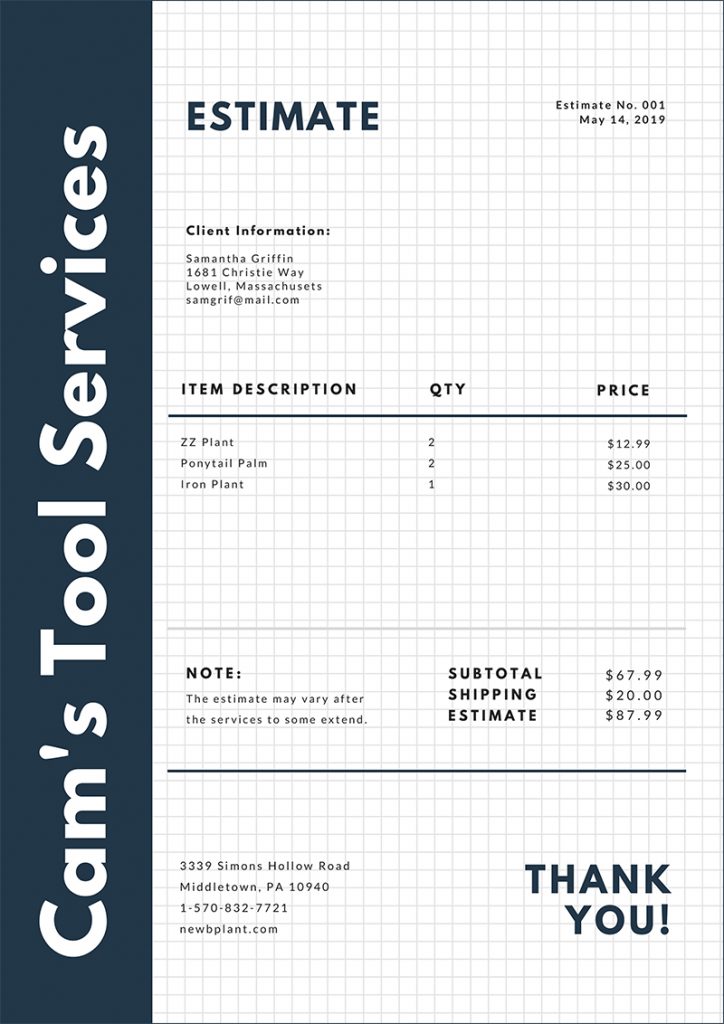 With this simple estimate template design, you have a great chance to display your brand name in big bold fonts on the left. The design is capable enough to bring anyone's attention on the left side. Hence, clients will remember your brand name for sure!
In the rest of the estimate template, you can see a graph-like design that is decent and pleasant to the eyes. You would definitely want to put some thoughts on the color selection. The design will become useless if you pick a bright color.
7. Concentric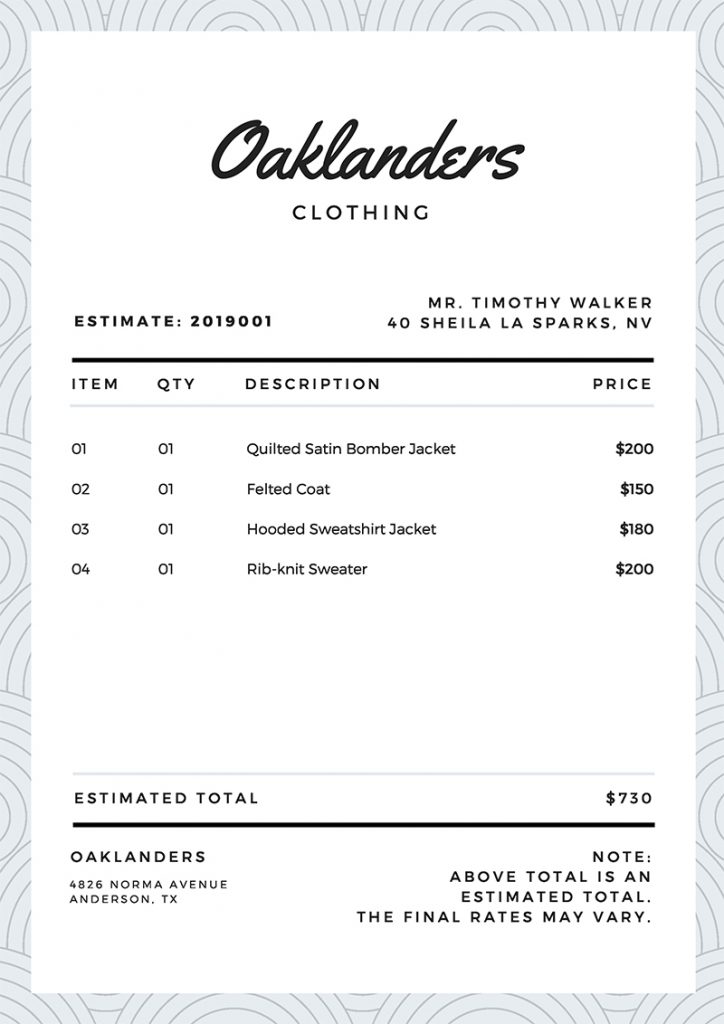 Next estimate design we have can be a great option for businesses dealing with clothes or any kind of fashion accessories. Here, the border is framed using concentric circles that make the entire estimate template very unique. In the center, there's a space for numbers and details where you can mention the services and charges. And you can emphasize the entire template using creative typography!
8. No Verticals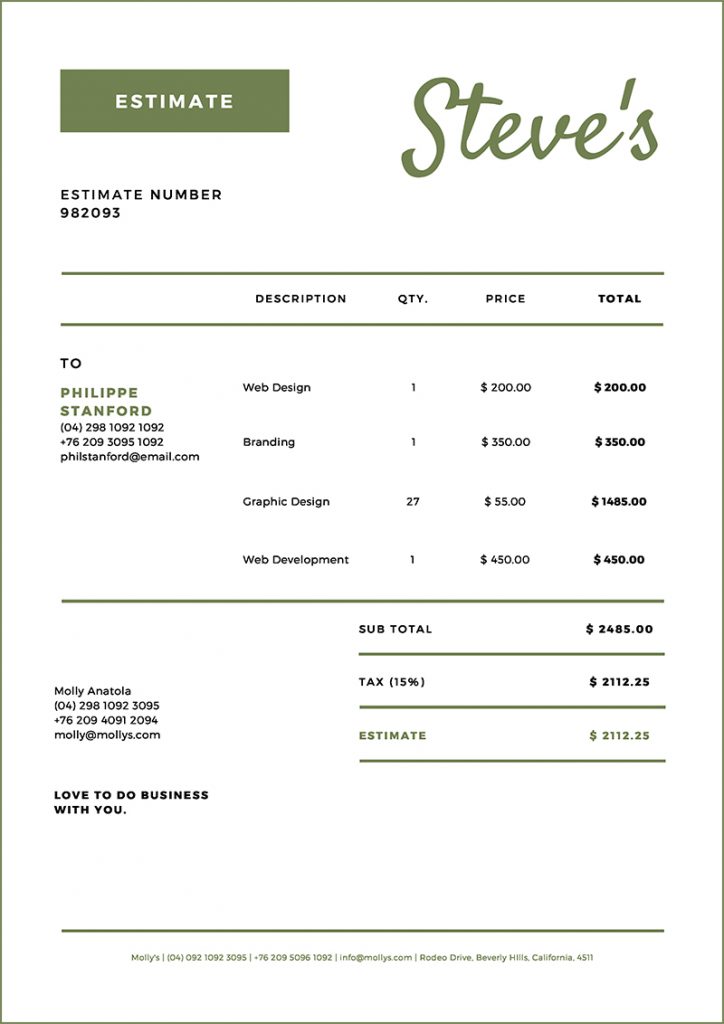 The interesting thing about this estimate template is – there are no vertical lines, only horizontals. Rest of estimate design is pretty simple, and you can use any light color with white. It can light up the whole template if you have a great logo design.
9. Rectangles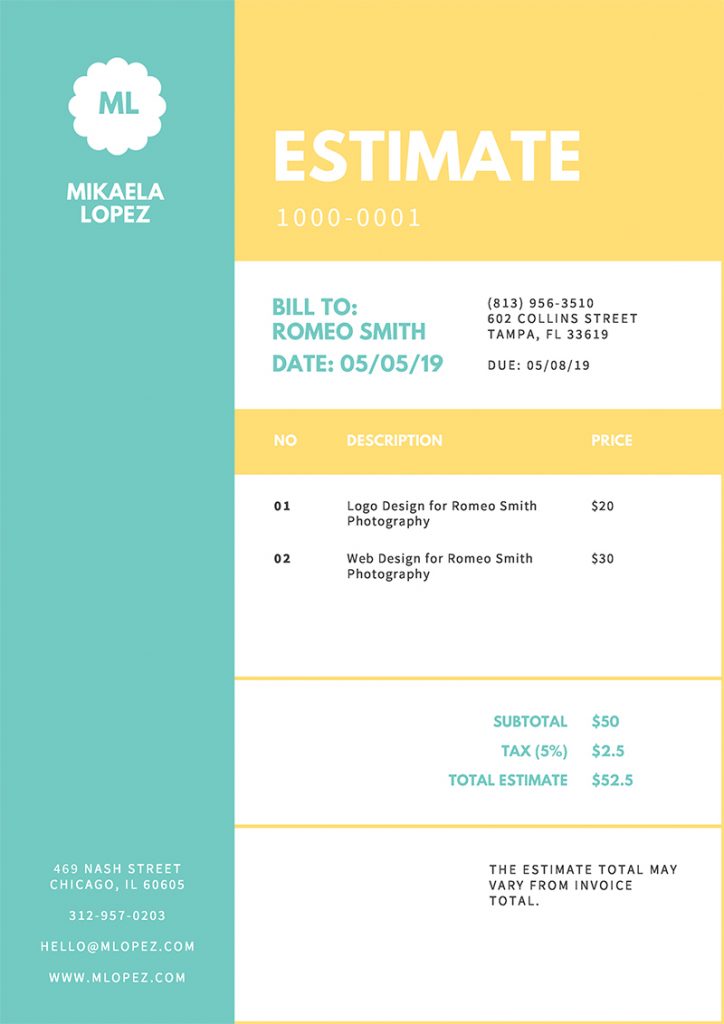 You can consider this as one of the most rebellion estimate templates. The color selection is unexpected, yet gives a perfect outlook because it has a well-picked color combination. If you notice, the entire estimate design has a smart use of rectangles. This would be a great fit for a design agency or a creative agency.
10. Orange Is The New Black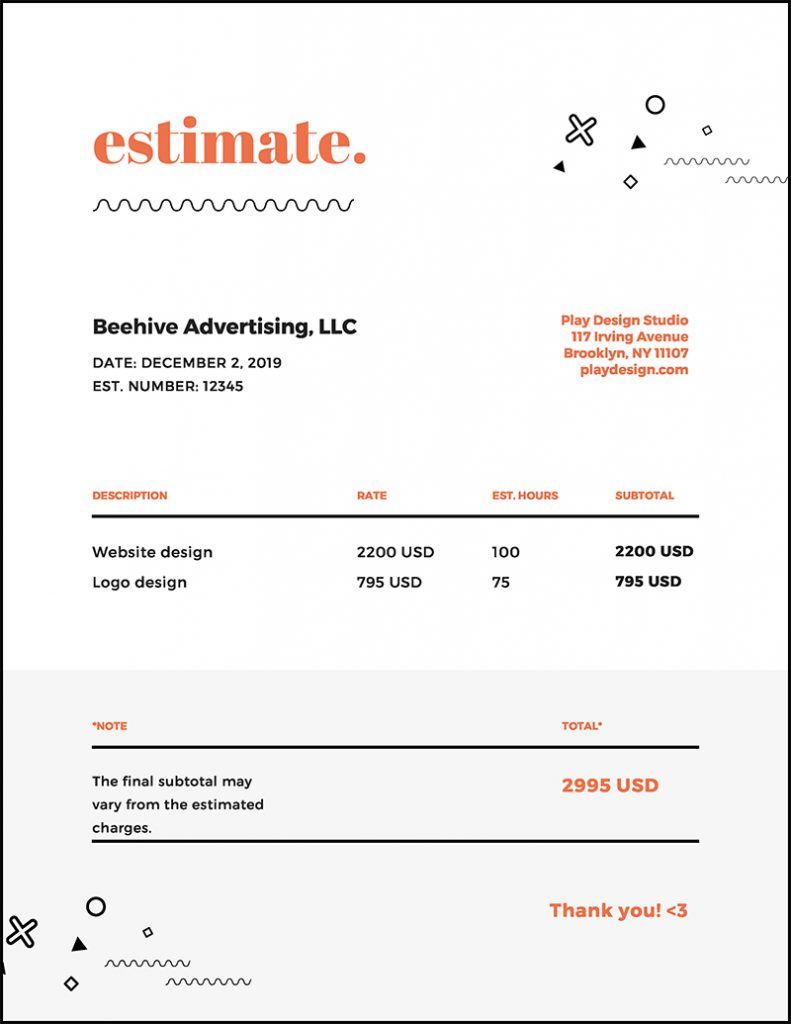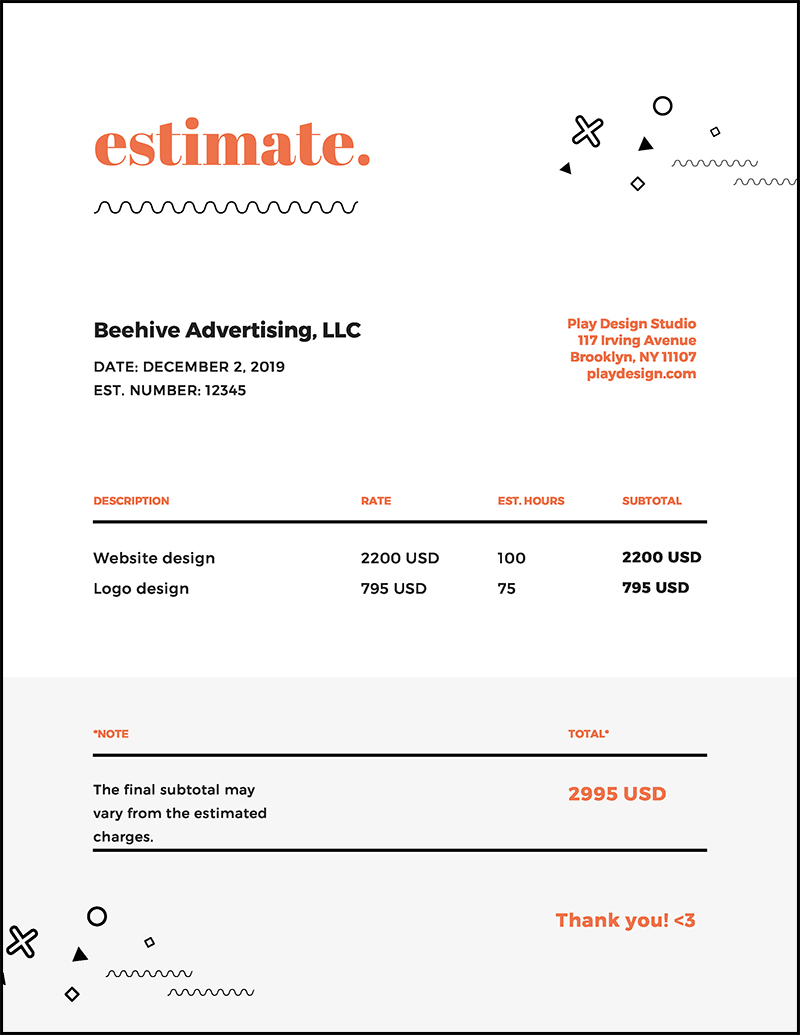 Personally, this is one of my favorite estimate templates just because it has the combination of black & orange. You can make experiments with random shapes on the corner, just like the one in the example above. Time New Roman Bold would be a great pick for this estimate design.
11. It's All Pleasant Here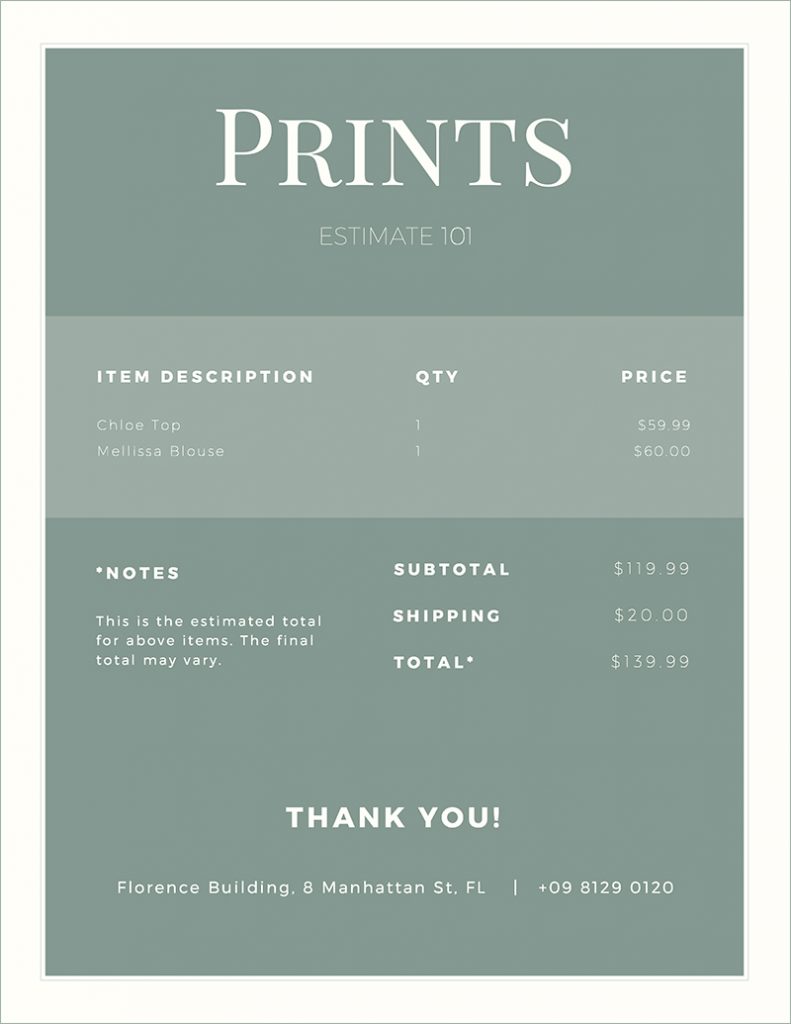 One of our favorite estimate templates of all times, this design has all the basic elements but gives a pleasant look as a result. This template would be a great fit for garment shops & fashion stores. You can pick the white color or black color fonts. There is light shade in the border that gives a very elegant touch to entire estimate design.
12. Two Sections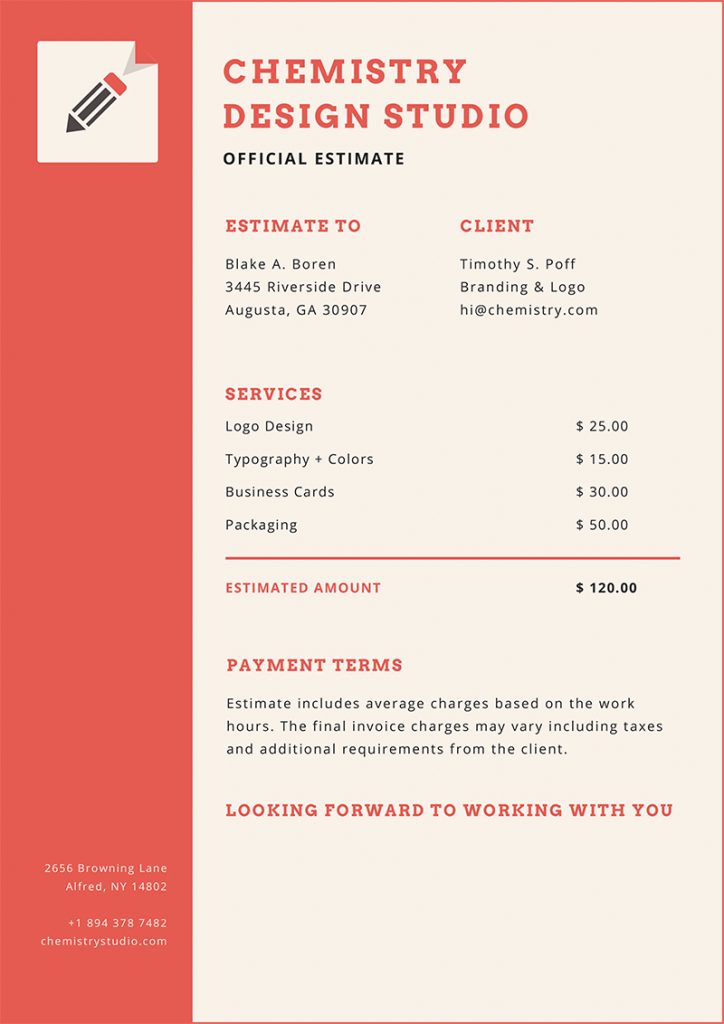 This entire estimate template is divided into two sections. The left section has enough space for a logo and addresses information, and the right section can fill up all the details of an estimate. The left section can bring more delight if you have a beautiful logo design for your brand. As you have noticed, there are two main colors, and font colors for each section are exchanged.
13. Like Yellow Pages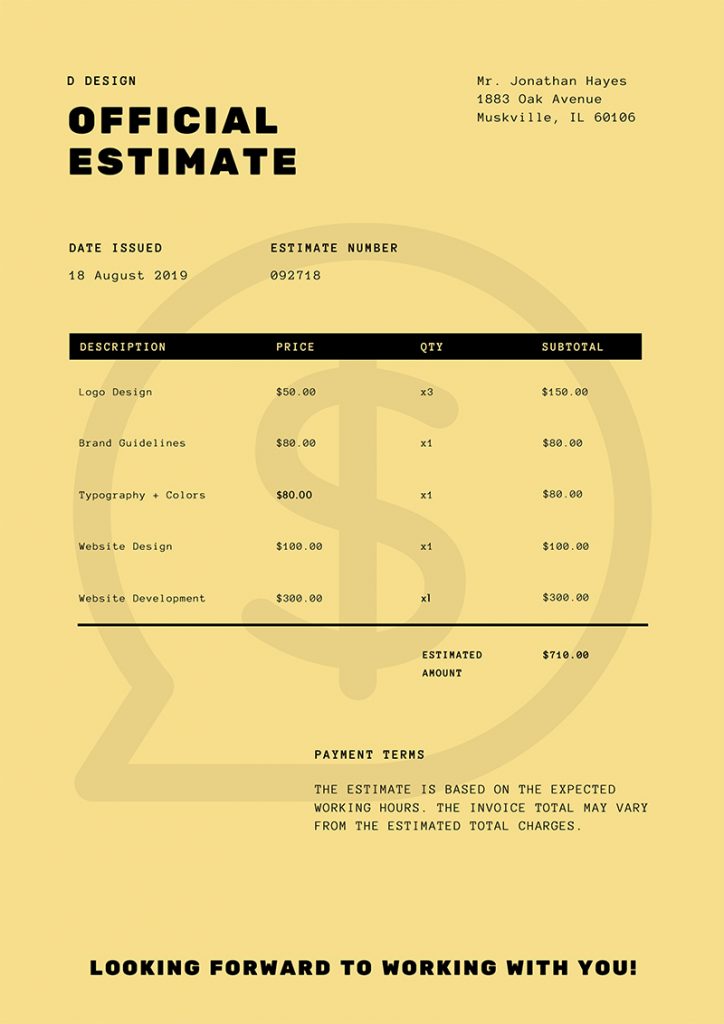 This estimate design is clearly inspired by yellow pages. Yellow and black has been a well-accepted combination since the classic yellow pages, and you can clearly see the magic here. The estimate template is pretty simple with horizontal lines. Here, you can use your company logo in the background as the watermark.
14. Picture In The Header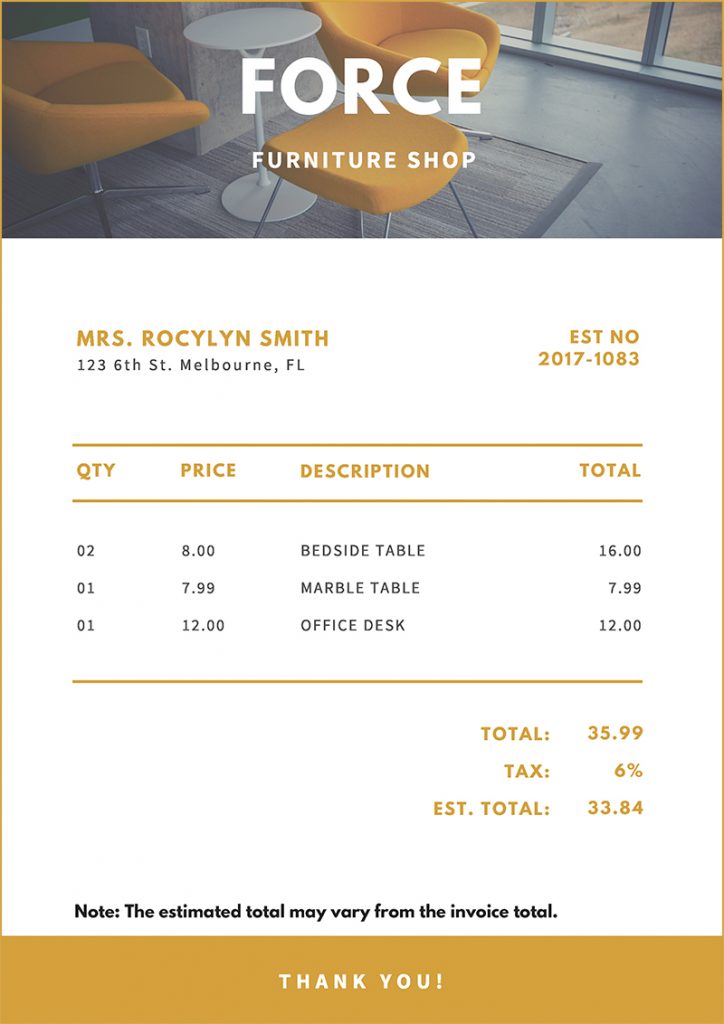 The next estimate template is also coming with the yellow & black combination but with a huge header this time. The design is pretty simple but the attractive part is, you can use a great picture to highlight your company or team or headquarter. This can leave a great first impression on clients as you are giving out some detail about your company.
15. Looks Like We Love Yellow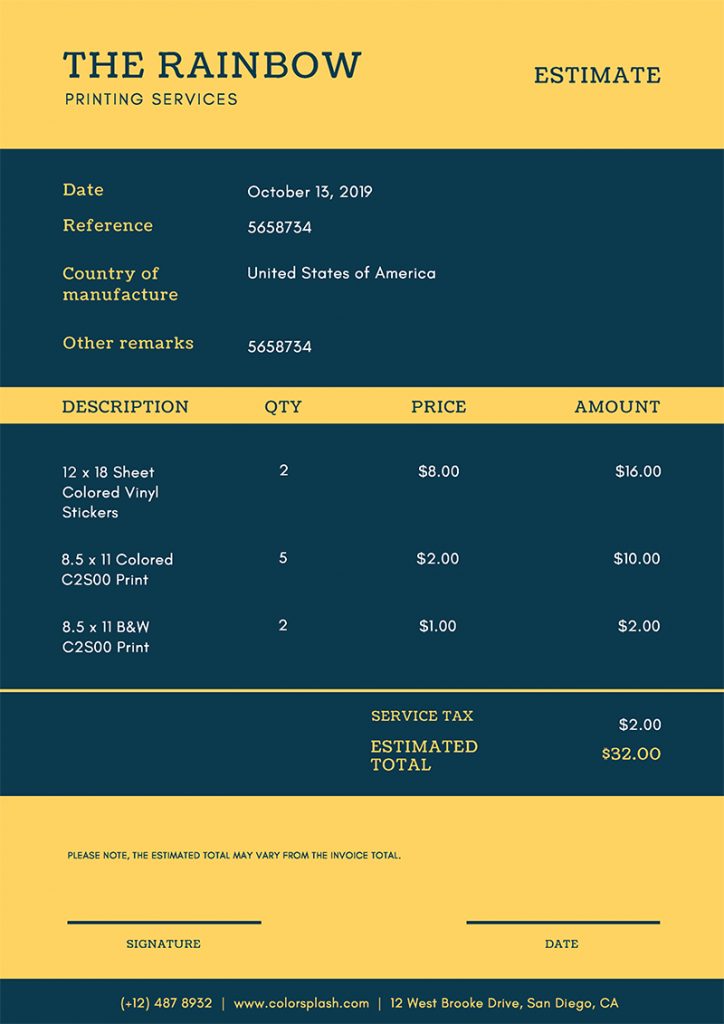 Yes. I'm pretty sure we love yellow now. In this simple estimate template, we have a surprising combination of yellow with blue. The design is pretty simple, but you can make a great impact using cleaver fonts.
That's All Folks!
So, these are the 15 best estimate templates we have really admired in the past couple of years. We have used these designs in one way or another and have received compliments from our clients. Show us your love or suggestions in the comment section below, and also let us know if you use one such classy estimate design.
Cheers!
Before You Go!
MinterApp is an online time tracking and project tracking tool with advanced invoicing features. You can create beautiful invoices & estimates using MinterApp and send directly to your clients. MinterApp will also keep an eye on your budget and will make sure you don't miss any deadlines. Sign up with MinterApp for 30 days free without any credit card details.