You have completed the project of your client, and now it's time to get paid. Sending invoice to clients is not just about getting payment, but it can also about leaving an impression using innovative invoice designs. The design you choose for your default invoice says a lot about your brand. Then why not give it some thoughts and choose the right invoice design!
Today at the Minterapp blog, we are discussing some simple yet attractive invoice template designs that you can adopt and leave a great impression on your clients. We have tried these invoice templates one way or the other. One of our clients who is a proud Minterapp user has received this testimonial from their client.
Thank you for the best service for custom design. You guys will be on top of our mind next time as well for the great coordination and the unique mark that you guys have left by sending simple and sleek designed invoice.

Cheers!

-Stacey
So why not sharing with the rest of our readers?
Today we have 15 simple invoice templates that you can use to send to your clients and leave a hammer effect.
Let's go.
1. Go For Black & White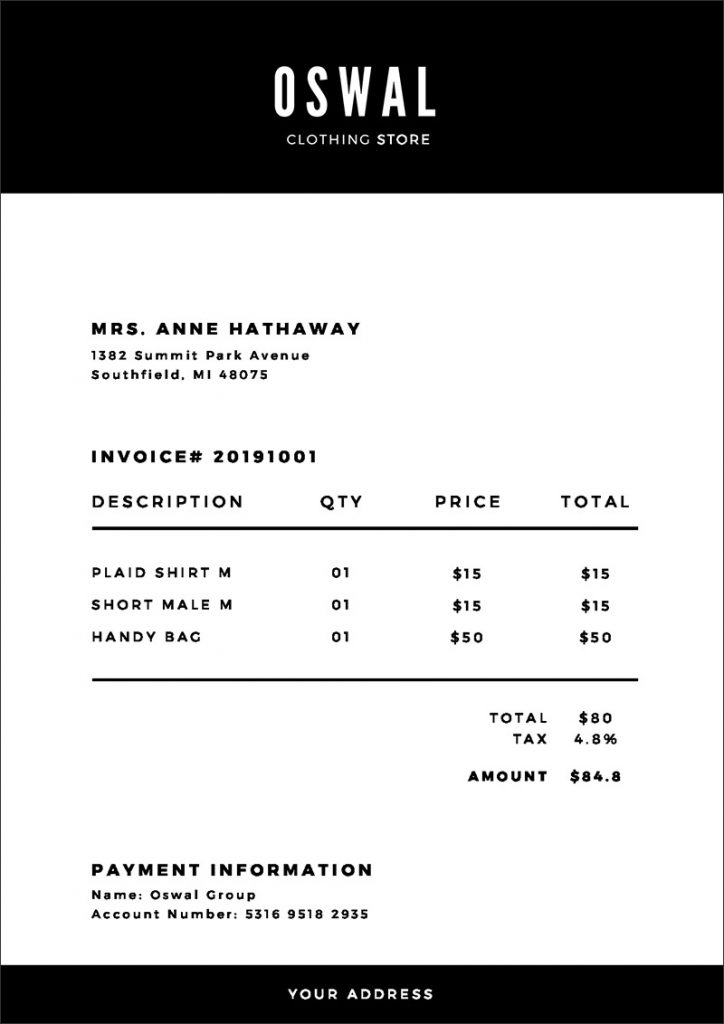 One of the most minimal and simple invoice templates to choose is B&W. Choose the header and footer with plain black color and leave the center with white. Choose the font of your choice, but here we have picked Montserrat. This is one of the simplest yet classy invoice templates you can choose to give noir effect.
2. Picture Header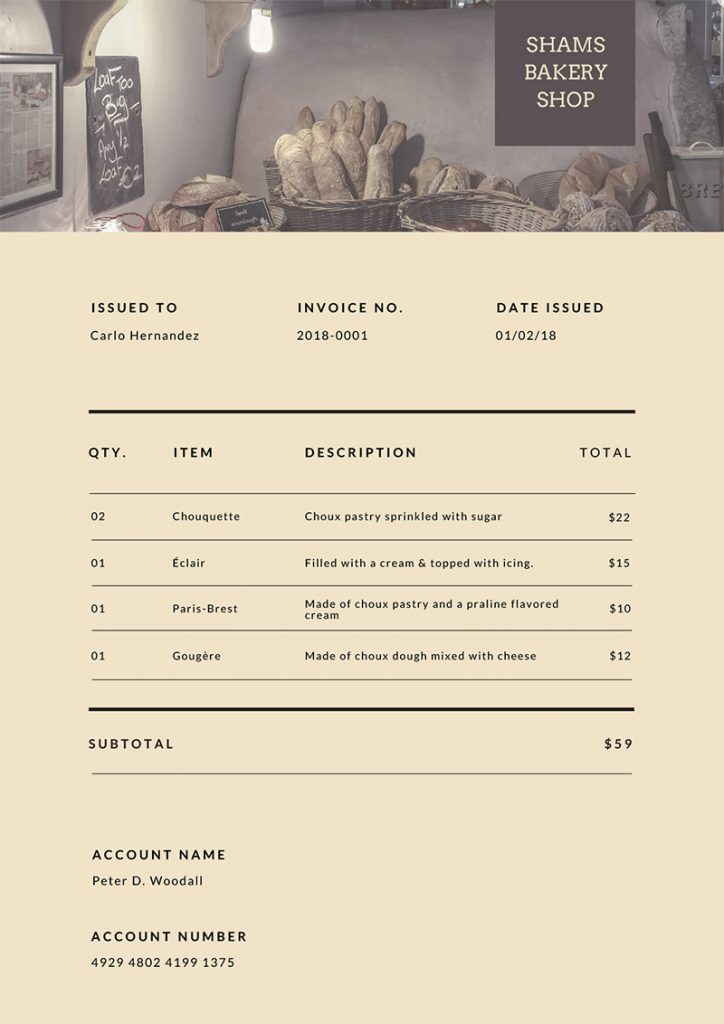 Another cool invoice design you can pick is – a picture in the header. You can put an elegant picture of your brand or team photo to showcase company culture. This invoice template has a great use of space and you can leave a great impression of your brand.
3. The Color Of Your Brand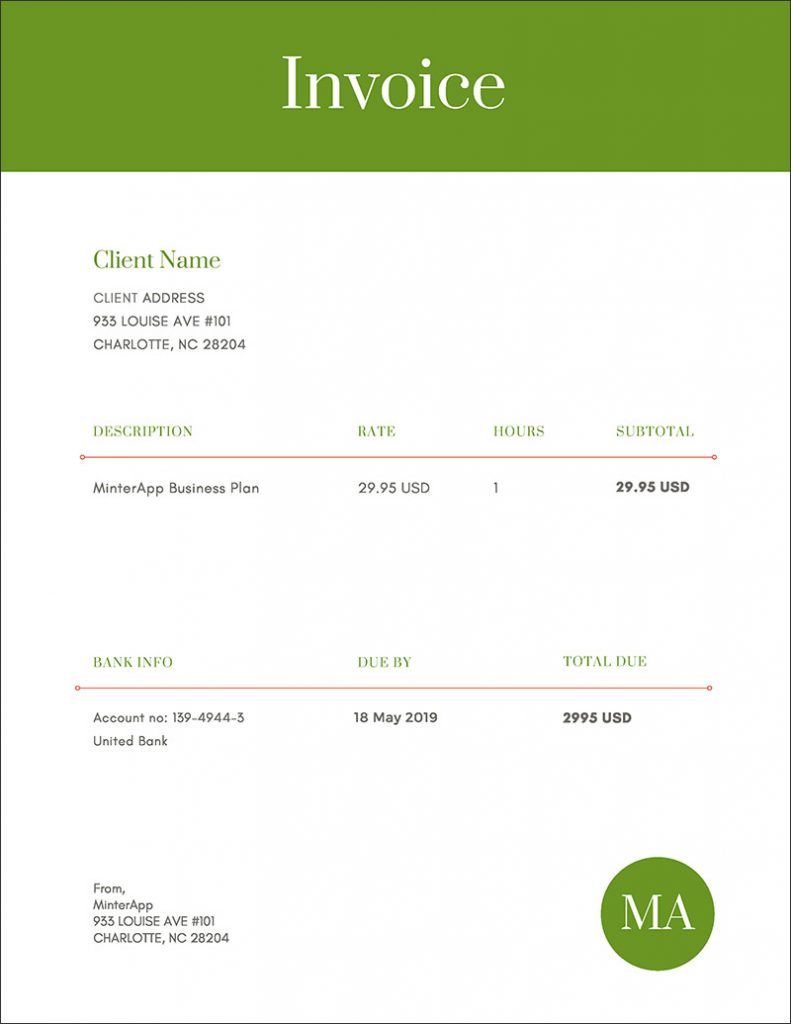 The next invoice design is one of the best examples of minimalism. Here, you can pick the color of your brand [we have picked the color of MinterApp], and leave the rest of the invoice template – plain white. You can use the combination of two color fonts with various sizes just like above. This invoice templates has a clean design and has an apex potential to impress your clients.
4. I Don't Need Lines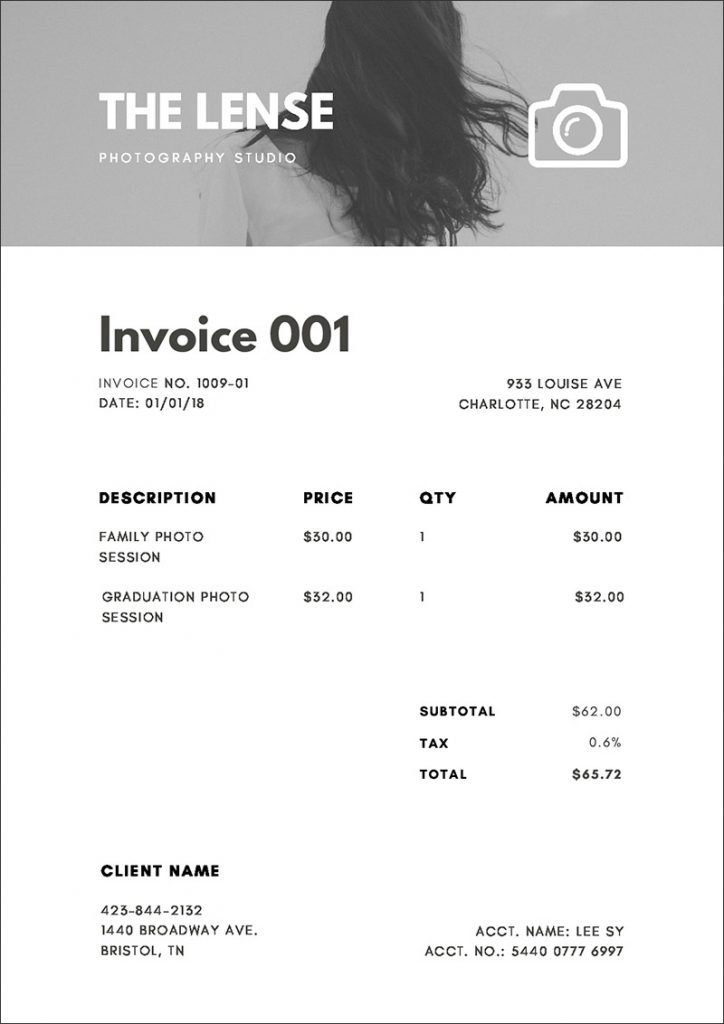 Talking about simple invoice templates, here is our 4th pick. You can use a combination of two fonts or use the bold feature. Either way, this can make an eyebrow lifting impression on your client. There is no need for lines in the invoice, and that's the uniqueness. Additionally, you can put down a great picture to emphasize the overall effect.
5. Thick Borders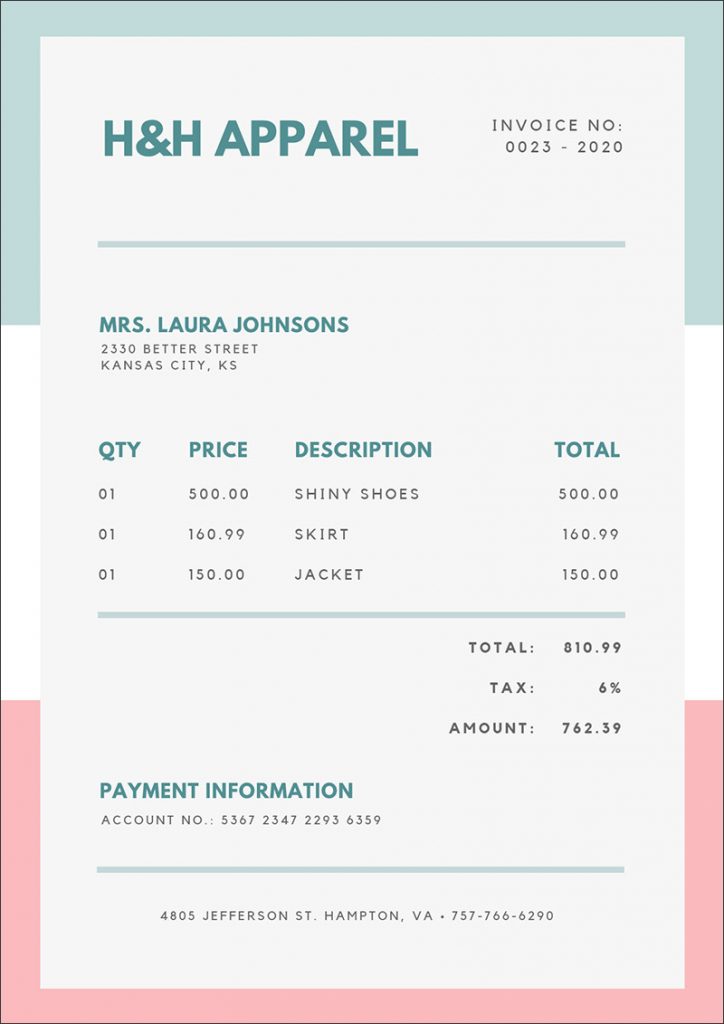 This is one of our favorite invoice template designs at MinterApp. The finest thing about this invoice template is – Thick Borders. You can choose a multi-colored border like the one in the example or you can pick a color and go bold. The font selection here is League Spartan, but you can also go for Times New Roman or Calibri.
6. Shades of Blue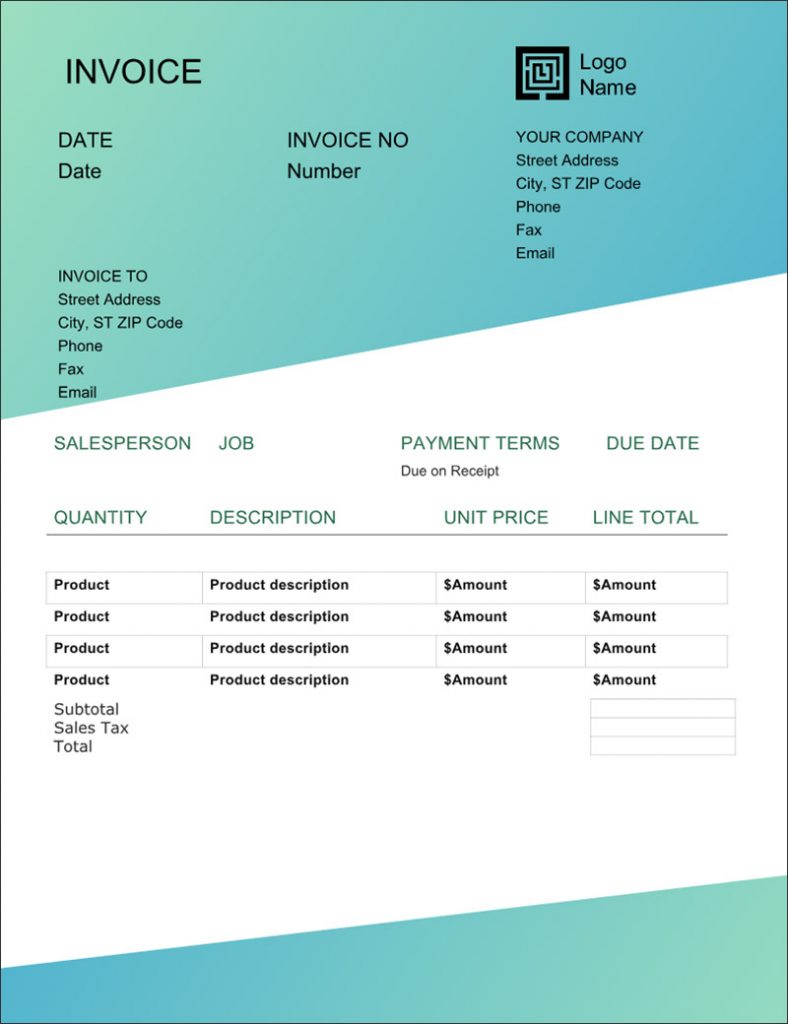 The next invoice design may not be everyone's cup of tea, but it can surely give a classy touch to your invoices. There are shades of blue on sides with perfect gradient effect to be out of the box, leaving a space for plain white in the middle. Black fonts would be the perfect choice for such kind of invoice, making the overall template more elegant and classy.
7. Only Horizontals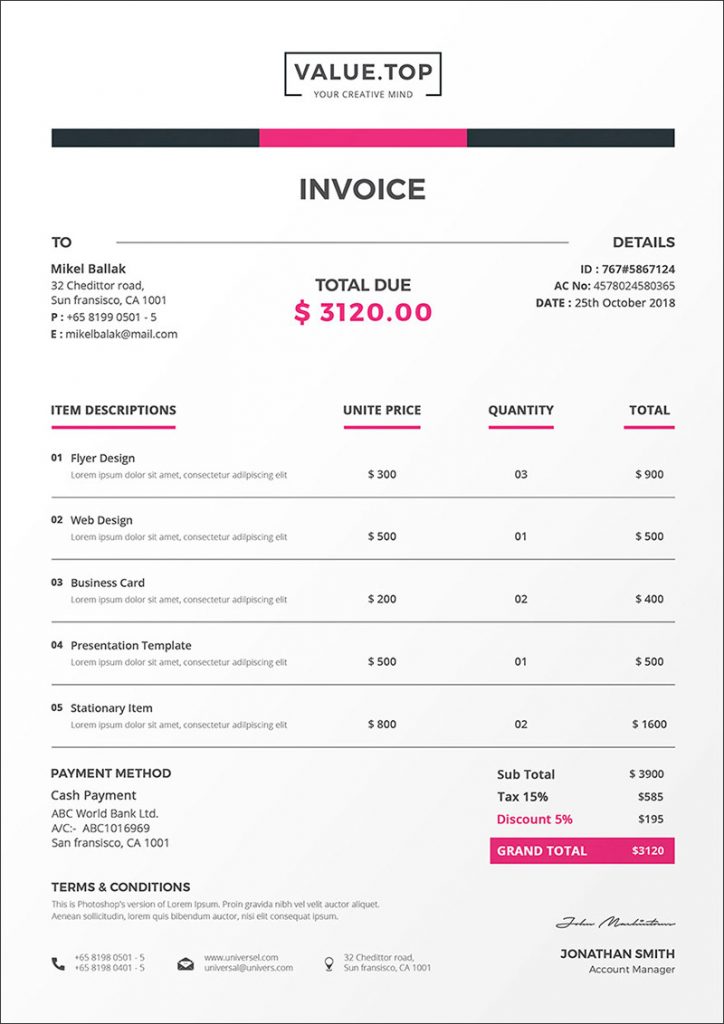 This invoice template shows a great use of colors to highlight the most important things of any invoice. The total amount and tax detail are two important details of any invoice, and those details are highlighted very mindfully here. The unique thing about this invoice is – it has only horizontal lines, no verticals! This simple invoice template can be used by web design agencies, creative agencies, or marketing firms to list their services.
8. Abstract Border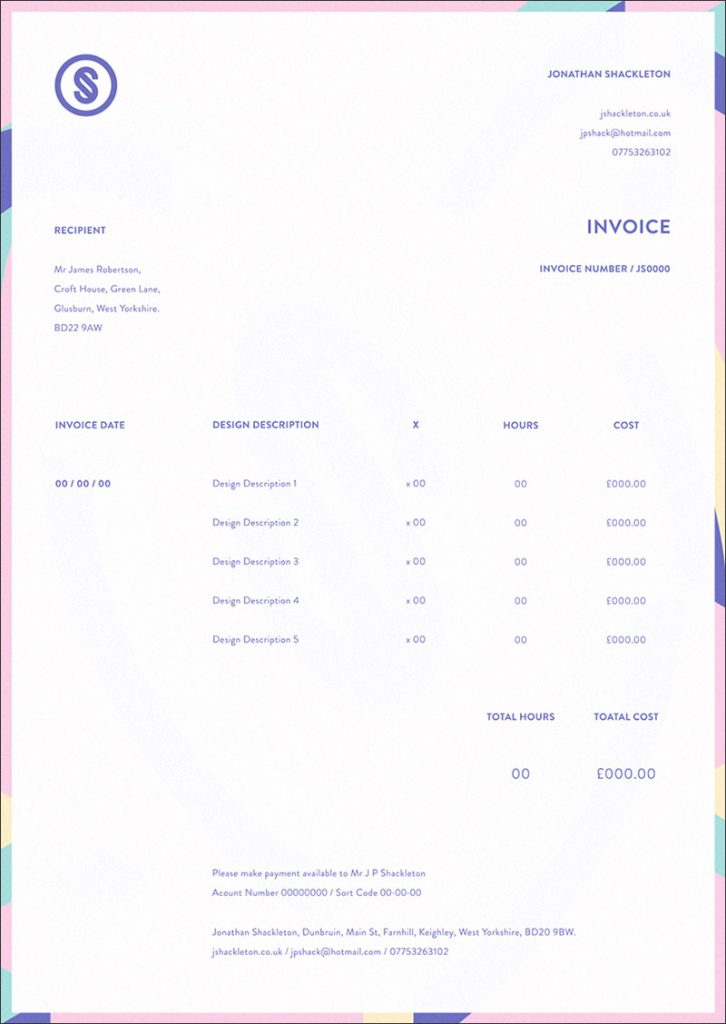 This is one of our favorite invoice design templates because the border is uniquely abstract and there are no cliche tables included in the invoice. Interesting thing is, you can use your brand color very smartly, just like violate is used here.
9. The Sections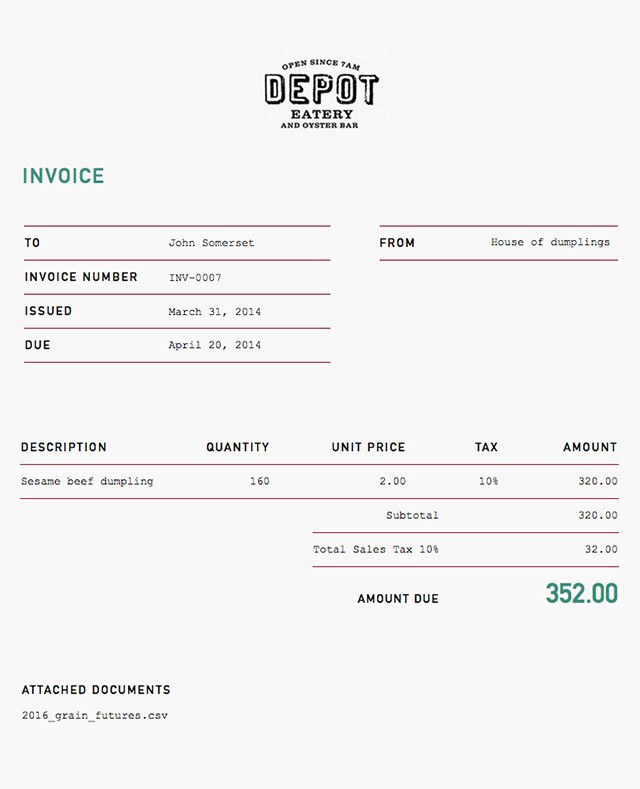 If you like to think a bit out of the box, this invoice template can be a right fit for you. All the main details in the invoice are divided into sections. It is one of those invoice templates that can be printed in a square shape, not the rectangle. Apparently, everyone is adopting the rectangle invoice design these days. This could be your out of the blue!
10. Geometrical Isomerism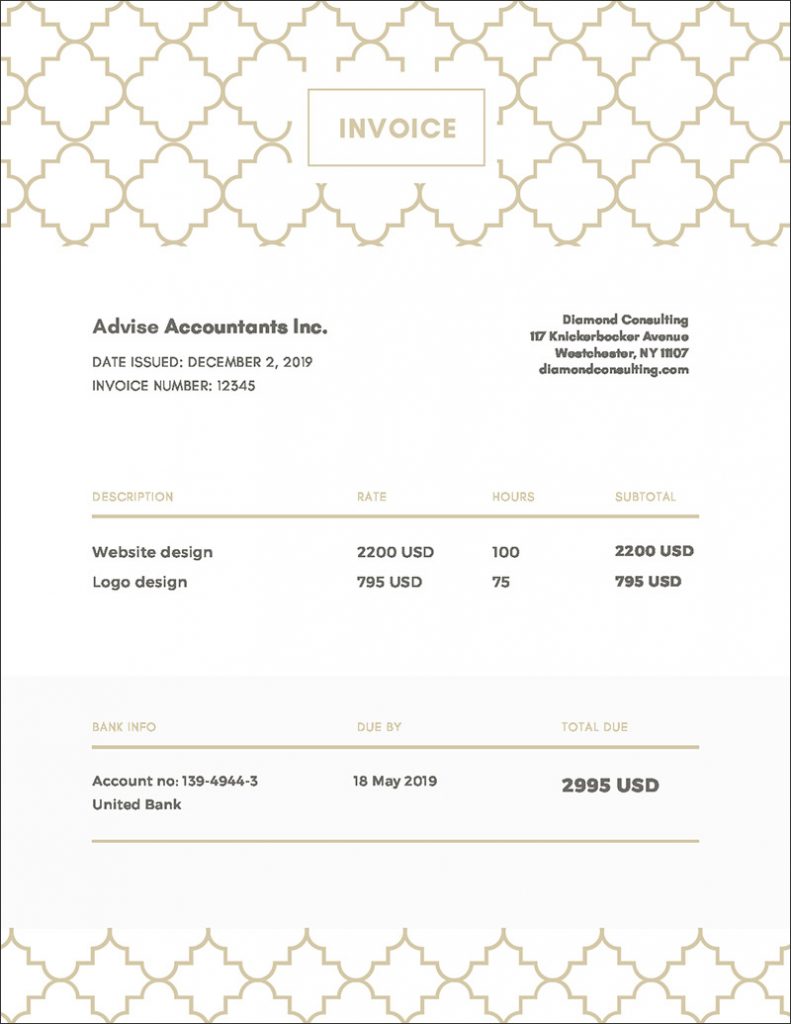 The next invoice template is a classy example of geometrical designs. It's that kind of template where colors become secondary as the shapes have taken over. Ideally, this would be a great fit for the businesses that are involved in designing, architecture, textile, or manufacturing.  You can experiment with fonts like Montserrat, Alike, Playfair, etc.
11. I Like Big Fonts & I Can Not Lie!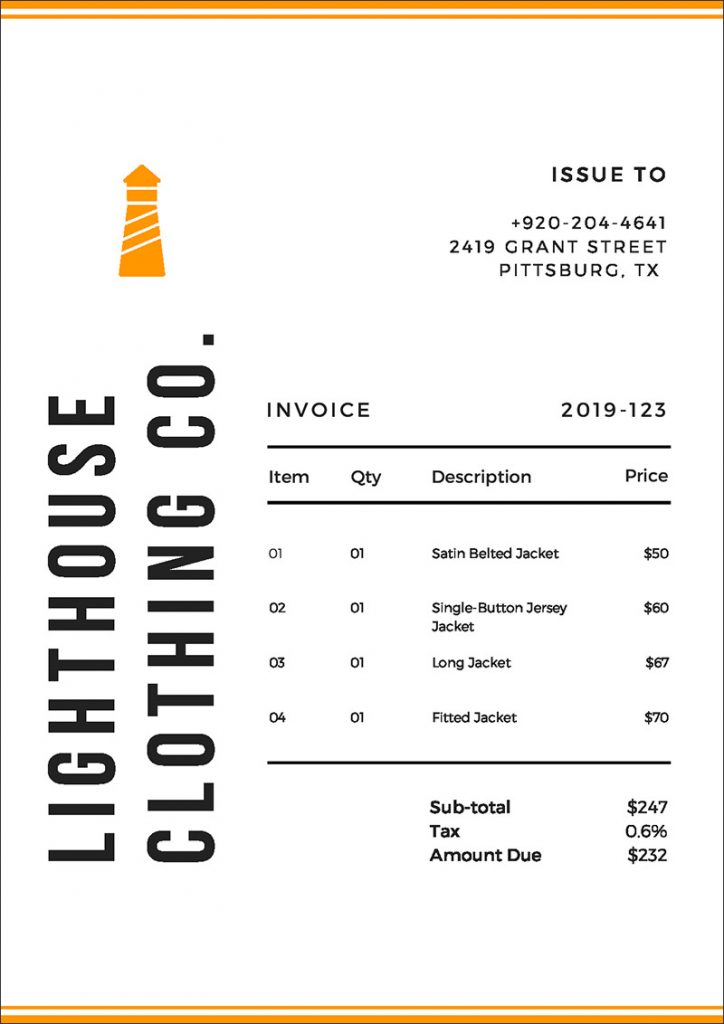 This invoice breaks the rules. Yeah, it not only talks about numbers but uniquely stands out with the typography. With this design, you can emphasize your brand name with big black fonts, and eventually, that results in a simple yet sturdy invoice template. Basically, there are two colors you can use [including your brand color] and create this outstanding invoice for your clients.
12. The 45°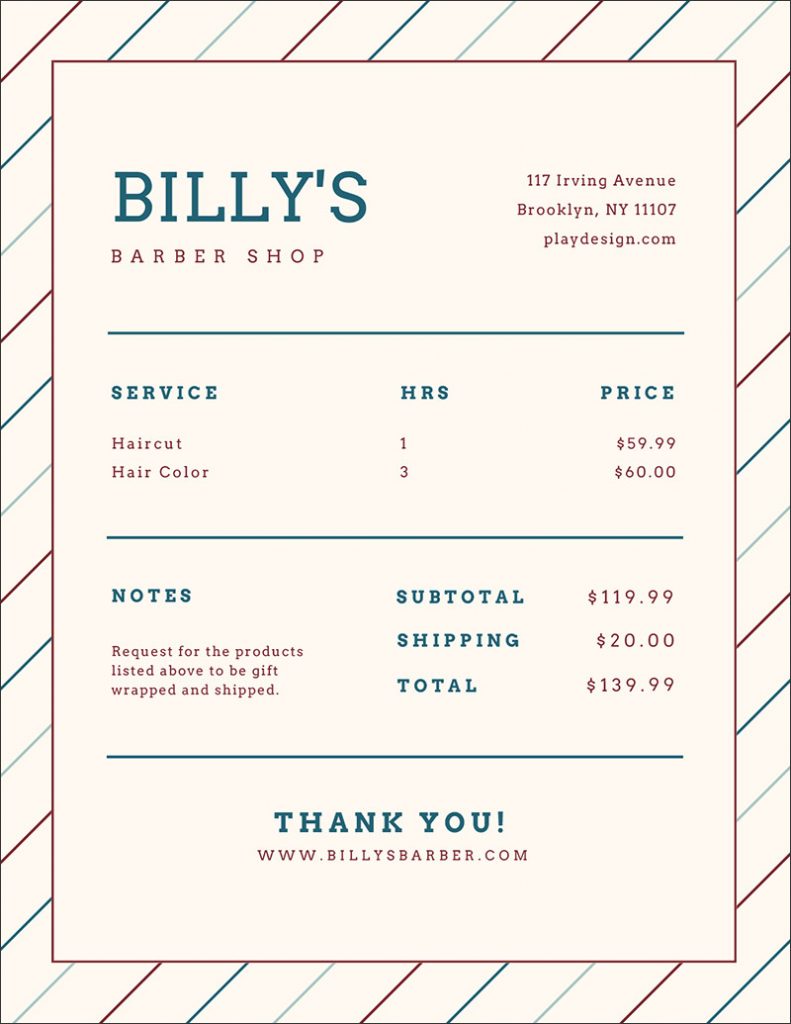 Personally speaking, this is one of my favorite invoice designs because this gives a creative feel of the border in the background. The use of two colors is marvelous and it's perfect for shops that use two mainstream colors in their brand marketing. Any small shop owners like a barber shop, salon, beauty shops, or any toy shop can use such invoice templates designs.
13. Mixing Secondaries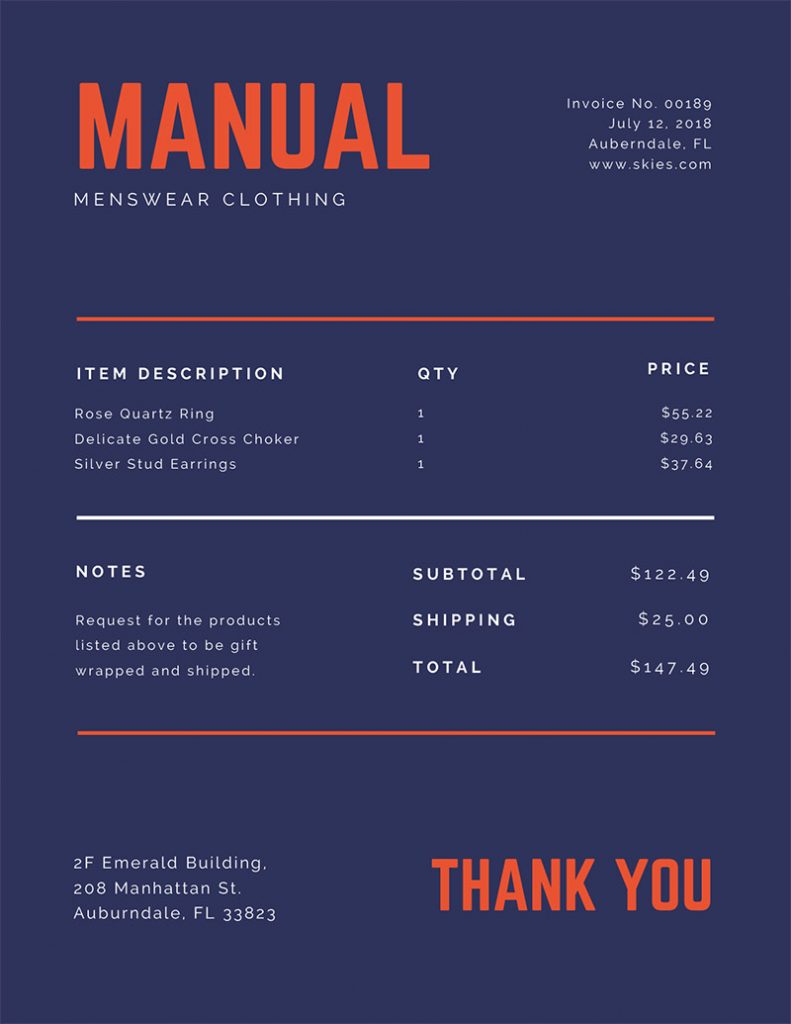 This is one rebellious design for an invoice template as there are two secondary colors used in a perfect sense. Purple and orange make the right fit here, and white is left just for the fonts. Again, this could be a perfect fit for companies that use two colors in their brand marketing. Eg. Peter England
14. The Doughnut Effect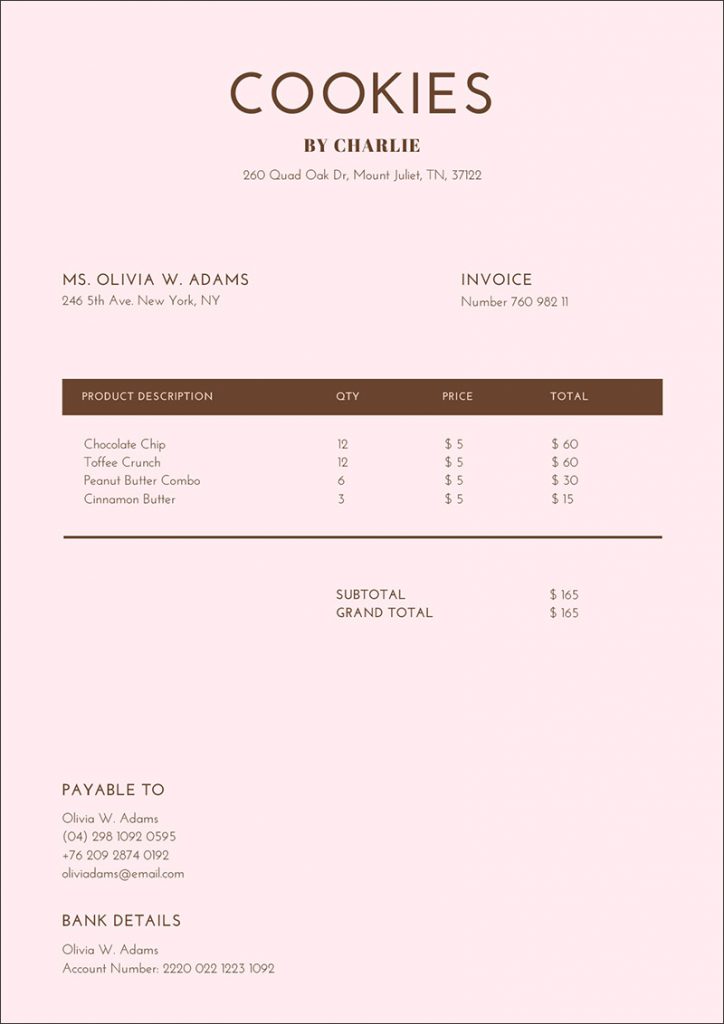 This invoice template design is a great fit for shops or store dealing with food. The invoice template has two classy colors of doughnut – brown & pink. The design is pretty simple, yet looks classy when done right, just like this! Calibri font can a great fit for such kinds of invoice templates.
15. The Green Board & Chalk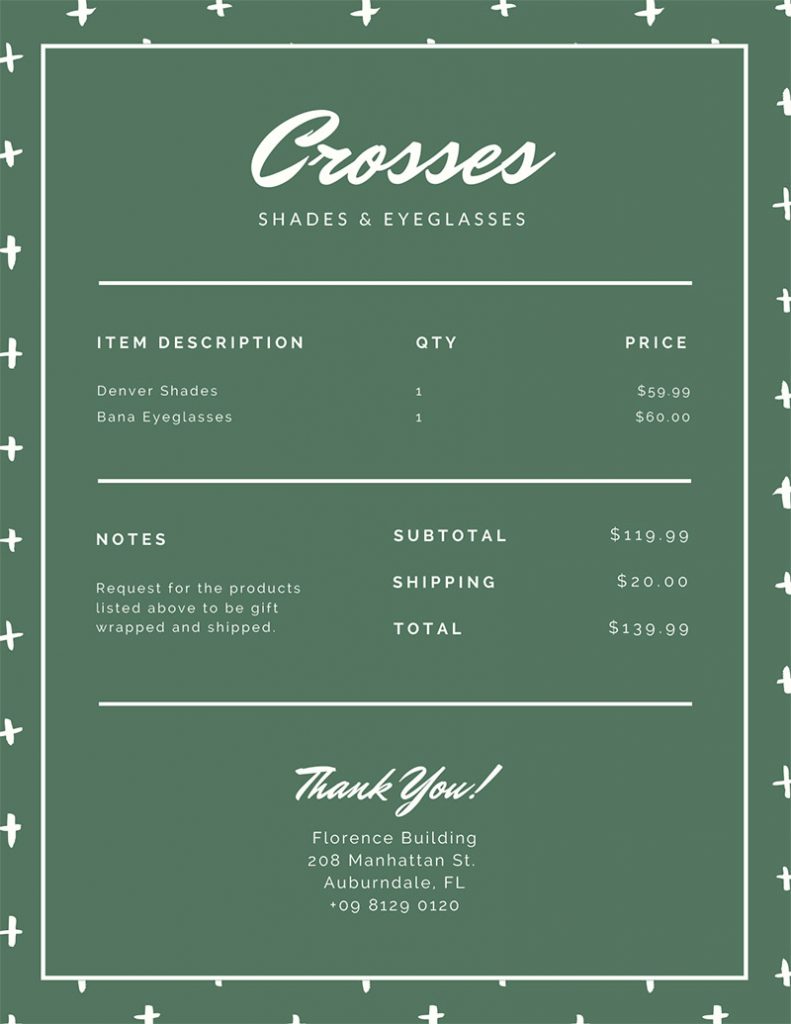 This invoice template design can lead you to memory lane, so the theme is to go old school. The white & green combination is the same combination for green board & chalk. Companies strictly following go green and save the environment social responsibility can definitely go ahead with this invoice design. There are two main colors used, and you can try various font style just like the one in the example above.
Bottomline
So, these are some simple yet amazing invoice templates we have used in one way or another at MinterApp. Don't forget to put down your thoughts with us in the comment section below. Also, if you use a groundbreaking invoice template like above, don't forget to share with the audience.