Are you tired of spending hours screening resumes and scheduling interviews? Are you looking for new ways to streamline your recruitment process?
With the increased use of automation in the recruitment process, it's more important than ever to find the right tools to help you manage your workflow.
Recruitment automation is the use of software to automate various tasks related to recruiting and hiring. This can include everything from sourcing and screening candidates to scheduling interviews, to sending offer letters.
There are a wide variety of tools available to help you automate your recruitment process. And with the right tool, you can save a lot of time and effort.
But with so many options out there, it can be tricky to know which tool is the best fit for your needs. So in this blog post, we'll explore some of the best recruitment automation tools available today.
In this blog post, we'll explore some of the best recruitment automation tools available today. Whether you're looking for a tool to help you track candidates, automate email communications, or manage your tasks, we've got you covered.
So read on to learn more about the best tools out there, and find one that's perfect for your needs!
Jobvite
Jobvite is a recruiting automation platform that helps you manage your entire recruiting process from start to finish. With Jobvite, you can post job openings to multiple job boards with one click, track candidates through the hiring process, and automate email communications.
The Jobvite platform combines intelligence and automation into today's expanded recruitment cycles. This allows hiring managers to speed up while filtering the right quality in a cost-effective manner.
Jobvite is a popular choice for businesses that hire many individuals on a regular basis. It works in tandem with applicant tracking systems to provide the highest candidate results possible.
Key Features
A system for identifying and recruiting prospective employees
Expert services to help you streamline the recruiting process
Marketing for recruitment
Onboarding
Coordination of information flows
Analyzing customer behavior and reporting
Nurturing a job candidate
Hiretual
Hiretual is an AI-powered recruiting assistant that helps you find, contact, and engage candidates. With Hiretual, you can search for candidates across multiple platforms, automate email and LinkedIn messages, and track your hiring progress.
Hiretual makes recruiting a breeze by engaging the applicants. It performs all of the preliminary background checks, allowing you to find the greatest candidates for your open position.
This program also offers a handy Chrome extension that allows you to quickly add candidates to your Hiretual account.
Key Features
Follow-up on Applicants
Relationship with the Applicant
Workflow for Analytics and Data Preparation
The automatic evaluation of prospect
Candidate management
Resume screening
TurboHire
TurboHire is a software-as-a-service that boost your resume analysis, recruitment automation, and workflows into an easy-to-use user interface.
TurboHire is an award-winning recruitment automation platform that uses artificial intelligence. The software is ideal for mid to large-sized businesses seeking to establish an effective recruiting process.
It is a solution for Talent Intelligence that links candidate discovery with integrated interviews to create a defined recruitment procedure.
Key Features
Talent Discovery
Interview Automation
Candidate Engagement
Referrals & Internal Jobs
Applicant Tracking
Agency Management
Requisition & Approvals
Offer & Onboarding
Reports & Dashboard
Admin & Set-Up
Zoho Recruit
Zoho Recruit is an applicant tracking software that can help you manage recruitment procedures more effectively.
The Zoho suite includes the CRM Zoho and their HR tool, Zoho Recruit. This cloud-based applicant tracking system (ATS) combines all aspects of a candidate engagement lifecycle into one software package that can be used by both staffing agencies and corporate HR staff.
Zoho Recruit can help you improve the productivity of your team by automating repetitive, time-consuming processes and activities. You may manage more users with Zoho's user management tools, customizing everyday workflows and automating functions like updating task status, sending emails, and so on. Using Zoho Recruit's reports and analytics, you can make better-informed decisions about your hiring process.
Key Features
Candidate sourcing
Job advertising
Social Recruiting
Hiring Pipeline
Background Screening
Hiring analytics
AI Recruitment
Onboarding
SeekOut
SeekOut is one of the finest AI-powered platforms for recruiting the best prospects.
This software is trusted by world-renowned businesses to provide the greatest results for their recruitment needs.
One of the most distinctive features of SeekOut is its sophisticated talent 360 platform, which allows recruiters and hiring managers to diversify their talent pools. The software also reduces bias in the recruiting process and improves candidates' involvement, which is critical in locating top prospects.
Key Features
Talent Search
AI Matching
Diversity Hiring
Cleared Candidates
ATS Rediscovery
Talent Analytics
Talent Optimization
SmartRecruiters
SmartRecruiters is the only modern and enterprise-grade talent acquisition platform that enables businesses to hire employees on-demand and at a lower cost.
To offer the best hiring services to today's workforce, the program includes artificial intelligence and candidate engagement tools.
SmartRecruiters understands that every business is unique, and it can help you reach a wider audience and perhaps attract top talent by adapting to your specific needs.
Key Features
Applicant Tracking
API
Background Screening
Activity Dashboard
Alerts/Notifications
Assessment Management
CRM
Calendar Syn
Pymetrics
Pymetrics is a behavioral talent analytics software that redefines hiring and talent management – employing data-driven behavioral insights and audited AI to develop a more efficient, effective, and equitable recruiting process throughout the whole talent lifecycle.
Pymetrics seeks to improve hiring outcomes by combining technology and AI (artificial intelligence) to more effectively match people with jobs where they are most likely to succeed.
Pymetrics can develop a personalized, accurate, and scalable algorithm by developing a company-specific set of tests.
Key Features
API
Aptitude Testing
Assessment Management
Candidate Comparison
Pre-Employment Testing
Recruitment Management
Reporting/Analytics
Skills Assessment
Knockri
Knockri is AI-powered, soft-skill evaluation software that aids in the reduction of unconscious bias and shortlists the best-qualified job seekers for interviews during early hiring screening candidates.
It also aids in the elimination of bad interviews by combining video awareness, artificial intelligence, and science to quantify soft skills like confidence and empathy.
The algorithm of Knockri is blind and has been trained not to consider skin color, race, ethnicity, gender, physical attractiveness, or sexual preference as factors in how desirable a candidate is.
Key Features
Auditing company framework
Automate interview questions
Personalized candidate journey
Use of audio, video, and textual branding in communication
Integration with ATS
Score and shortlist candidates
Jobsoid
Jobsoid is a cloud-based Applicant Tracking System that allows you to execute your whole recruitment process, from creating a job opportunity to selecting the best person for the position.
Jobsoid is an applicant tracking system that aims to automate your time-consuming recruitment procedures in order to help you hire better people more quickly.
Jobsoid provides you with sophisticated job postings, social media recruiting, candidate management, and recruitment marketing tools.
Key Features
Job Advertising
Candidate Sourcing
Candidate Management
Candidate Messaging
Interview Management
Team Collaborations
Reporting & Analytics
FastTalent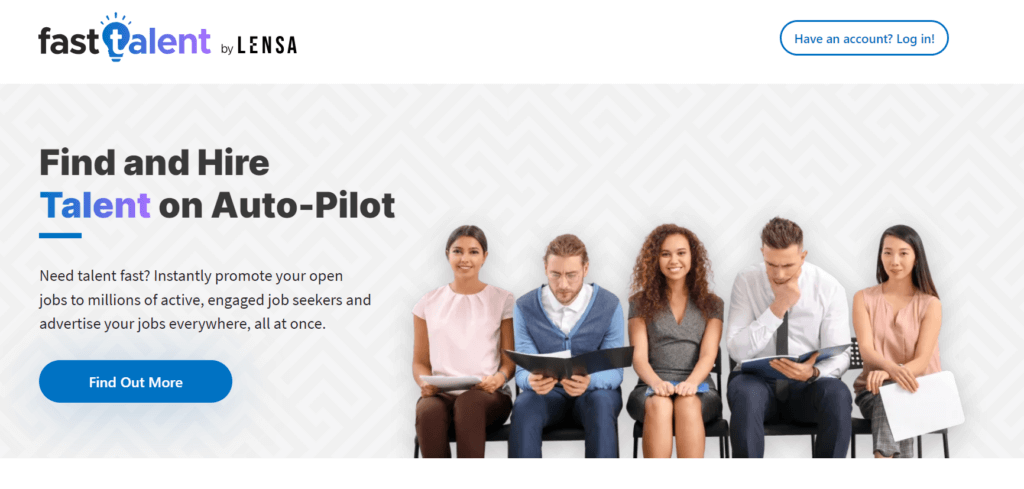 FastTalent is a recruitment software that helps employers instantly promote open jobs to millions of job seekers across the US. The product is launched through Lensa, a job search engine that helps millions of job seekers find the right talent through its match-making system.
With FastTalent, hiring companies can purchase single ad postings and represent Lensa's first fully e-commerce solution for employers to find the best candidates for open roles.
Key features
Promote jobs through Lensa's 17+ million members via email, SMS, and site outreach.
Recruiters can purchase performance-based advertising and set their own bids at the job level.
Accelerate a seamless recruitment process.
Employers and staffing firms can also advertise all of their jobs on Lensa with one low flat monthly or annual price.
Generates reports for tracking the application process and finding suitable candidates.
JazzHR
JazzHR is a sophisticated, user-friendly applicant tracking system that was created to help organizations achieve their recruiting targets.
JazzHR is a renowned recruitment automation solution for small and medium-sized businesses that have been shown to enhance the human side of recruiting.
All of the tools you need to attract, manage, and communicate with your recruiting team are included in JazzHR's recruitment software.
It also allows you to post unlimited job ads, which may be beneficial if you're seeking to hire a large number of individuals.
Key Features
Applicant Tracking
Candidate Experience
Candidate Sourcing
Collaborative Hiring
Compliance & Reporting
Employer Branding
Interviews & Assessments
Offers & eSignatures
White-Label
Ideal
Ideal is a cloud-based recruitment automation system that serves as a virtual assistant to automate time-consuming and high-volume hiring activities.
They allow recruiters to swiftly scan their existing databases for the best prospects and identify them in just a few seconds using AI.
An assessment is carried out by the application. It also contains a chatbot functionality that increases candidate involvement, with the responses contributing to the overall evaluation outcomes. It also actively excludes non-pertinent information, which is known to frequently cause biased judgments.
Key Features
Chatbot
Compliance Tracking
Email Management
AI/Machine Learning
Applicant Tracking
Background Screening
Job Requisition
Process/Workflow Automation
Textio
Textio platform is the only one that compares your recruitment language to that of your competition, and we just launched language usage statistics.
With their enhanced writing platform, Textio can help you with your messaging, including job postings and company descriptions, whether it's for internal or external purposes.
Textio examines your writing for bias and provides tools to help you establish and foster a positive workplace culture. Textio also aids in the removal of jargon, allowing your writing to be more understandable.
Key Features
User Management
Workflow Management
Content Management
Contextual Guidance
Document Generation
Document Templates
Reporting & Statistics
LinkedIn Recruiter
LinkedIn Recruiter is a comprehensive talent-management platform that helps you discover, connect with, and manage the people you want on your team.
LinkedIn's recruiting tools provide you with up-to-the-minute data on more than 740 million members, sophisticated search options, and suggested matches to focus on based on who's most receptive to hearing from you.
With Recruiter access, you may quickly send candidate profiles to hiring managers (with or without their permission) for comment. You may also tag your teammates, see who they've connected with lately, and monitor how effective your InMails are.
Key Features
Search for the right candidates
Helps to build better relationships with candidates
Save time by automating your procedure.
Helps in easy and efficient hiring
InMail Recipient Insights
Connection Path
iSmartRecruit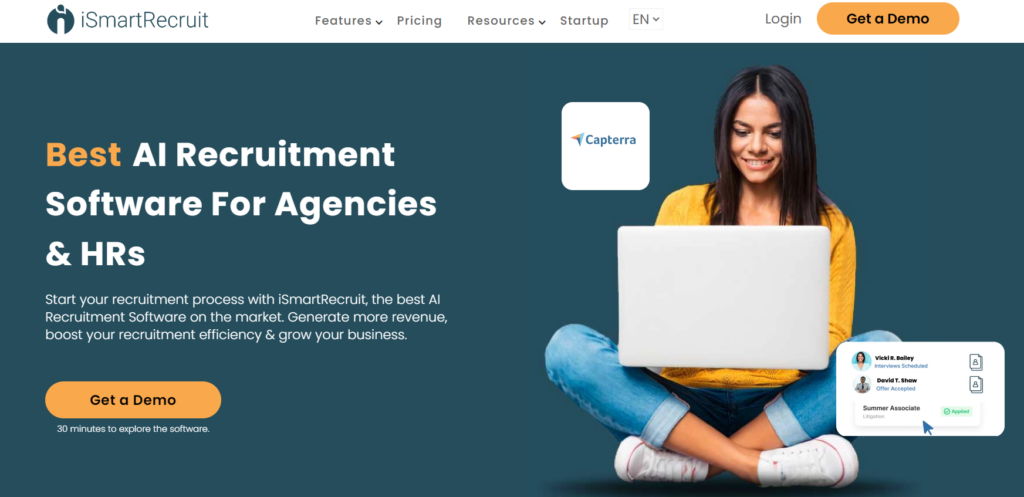 iSmartRecruit aims to offer an AI-based Applicant tracking system (ATS) and Recruiting CRM for hiring managers, corporate HRs, recruiters, and staffing agencies, which automates the recruitment process by eliminating manual and repetitive tasks in the hiring process since 2013 with 10000+ happy users worldwide.
Key features
AI & automation
Recruitment marketing
Self-service portal
Go paperless with E-signature
Discover documents effortlessly using a platform with exceptional search capabilities
Track candidate progress by utilizing workflow automation
Implement your onboarding from anywhere
Customized email templates to create content
Reporting & compliance
Longlist.io
Longlist is an innovative automation platform crafted for swiftly growing recruitment agencies and staffing firms. It redefines the recruitment landscape by simplifying the process of searching for candidates and clients, facilitating effortless outreach across various channels like email, LinkedIn, SMS, and phone.
Additionally, Longlist takes care of repetitive tasks such as email follow-ups, granting recruiters more time to concentrate on critical aspects of their job.
Key features
A comprehensive talent search platform
Efficient email automation
The ability to conduct multi-channel outreach campaigns
Facilitation of video recruitment.
There is seamless integrations with any tool in your recruitment tech stack