Synopsis
If your company has reached a point where freelancers or your in-house team can no longer sustain your growth, outsourcing, and remote staffing are great options to explore. However, the success of each lies in differentiating between the two, as it can affect your company's productivity and profitability. If you're ready to explore these HR sourcing methods, we have sized up the benefits between outsourcing and remote staffing to see how they stack up against each other.
Introduction
In today's gig economy both small businesses and large corporates are looking to tap into the on-demand and cost-effective talent. However, on-demand professionals can only do much, and can't sustain the long-term growth of a business. This is especially the case in the tech industry, where startups are often compounded with proof of platform concepts and challenges in finding capital financing and scaling up to meet customer demand. It is for this reason that most IT companies start pursuing scalable and more long-term resources, like remote teams or nearshore services.
But how does remote working and outsourcing stack up against each other? Still, how are they beneficial in their respective capacities to your business?
In this article, we are going to answer all these questions. And while at it, we are also going to look at the pros and cons of remote working and outsourcing.
But before we dive in, let's get the basics out of the way.
Difference Between Outsourcing and Remote Staffing
Outsourcing entails a company contracting specialists or generalists to deliver particular deliverables that are traditionally managed by in-house teams. The nearshore outsource relationship is managed via a single point of contact, and frees time for the full-time staff, allowing them to focus on more revenue-driving roles.
On the other hand, remote teams act as an extension of the existing in-house team, plus they are integrated into the hiring company's culture and processes.
A remote staffing company can be useful to your company especially if you're looking to quickly externalize repetitive tasks such as customer support, data entry, data transcription, and data curation. Once the remote teams are up and running, the role of managing them then shifts to the hiring company.
Different Types of Outsourcing
Basically, there are different four main specific definitions that fall under the outsourcing term umbrella. They include:
Onshoring

: This entails a company hiring an external service provider within the same country to assist in business operations.

Nearshoring

: Unlike onshoring, nearshoring entails the transfer of business operations to a neighboring country.

Offshoring

:

Offshore outsourcing e

ntails transferring one or more business processes to a distant country.

Multisourcing

: When you outsource your business processes to several vendors, it is often referred to as multisourcing.
Benefits of Outsourcing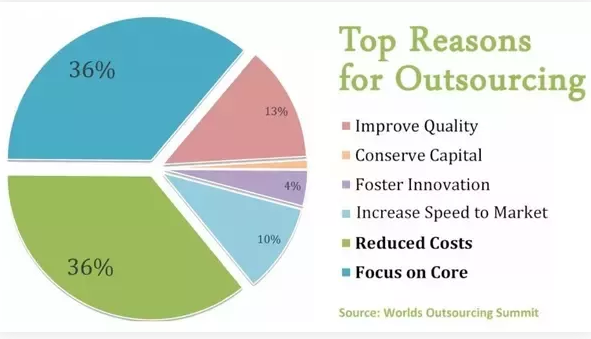 Cost Advantages
One of the biggest and most obvious benefits of outsourcing is the cost savings aspect. When you outsource your business processes, you are able to get quality results at a relatively lower cost. For instance, a company in the US looking for software development outsourcing can significantly reduce the development costs by hiring in Ukraine due to the wage differences in the two countries.
Increased Efficiency
By nature, most outsourcing companies deal with multiple complex projects and gain experience and exposure to the domain while at it. By outsourcing from these companies, your business benefits with their years of accumulated experience and expertise, leading to an increase in efficiency and productivity.
Focus on Core Business Areas
Another key benefit of outsourcing your business processes is that you get to free up your energies, allowing you to focus on the core areas such as building your brand.
Save on Infrastructure & Technology Costs
Since the sole business of outsourcing companies is to help other companies achieve their goals, they heavily invest in tools and technologies to help them do so. For this reason, once you partner with an outsourcing company, you don't have to spend more to set up the infrastructure.
Access to Skilled Resources
By working with an outsourcing services provider, you don't have to invest in recruiting and training the workers as they take care of their respective resourcing needs.
Time Zone Advantage
Along with the other benefits of outsourcing. Another much-touted benefit of this hiring model is close proximity between your country of location and that of the outsourcing partner. The minimal time zone difference gives your business round-the-clock operations.
Cons of Outsourcing
Although outsourcing does come with some benefits, it does also come with its own share of challenges. For example, outsourcing your work to external parties may cause loss of control over how it's executed, and since outsourcing agencies work with multiple clients concurrently, sometimes, they may not give your project the attention it deserves.
To avoid this, ensure you have established a clear working guideline with the outsourcing agency. Some outstanding success stories of outsourcing include Alibaba during the initial years and Slack during the development stages of the tool.
Pros of Remote Staffing
Easily Scalable
The on-demand nature of IT staff augmentation allows you to scale up or scale down the number of workers without hiring them permanently. Better yet, all the candidates are pre-screened and interviewed, which can save a lot of time and money.
Increased Communication Control
Although remote workers aren't physically present in your office, they are a part of your company just like your full-time employees. This makes managing offshore teams as well as your in-house team as they tend to work using unified centralized systems.
Cons of Remote Staffing
Some of the major demerits of remote staffing include challenges in finding the right fit of self-motivated people for your project, which could eventually hurt your bottom line. Examples of companies using remote staffing services include Buffer, FlexJobs, Git Lab, among others.
So What Should You Use Between Outsourcing and Remote Staffing?
As you can see, both outsourcing and remote staffing have the potential to save your company some money. However, if you are a large company that is increasingly becoming overwhelmed by some tasks, offshoring will help you maintain market competitiveness, control over the staff you select to partner with, and give you the ability to explore new business models. On the other hand, if you are a start-up struggling with cash flow issues, remote staffing may be the ideal model for you. It allows you to scale up or down the number of people to hire depending on the HR needs.