Key Takeaways
CRM dialers: The secret weapon for sales and customer management.
A CRM dialer is a software that automates the process of calling leads, making it easier for businesses to connect with their target audience, and increase productivity.
Choose the right CRM dialer for a competitive edge in 2023.
In today's fast-paced business world, it's more important than ever to have a solid customer relationship management (CRM) system in place. And, when it comes to sales and customer engagement, one key component of a successful CRM system is a dialer.
These systems automate repetitive tasks, streamline operations, and enhance team collaboration as well as communication.
In this article, we will take a look at the best CRM dialers for 2023, as well as the features, benefits, and importance of choosing the right system for your business.
What is CRM dialer?
A CRM dialer is a software that automates the process of calling leads, making it easier for businesses to connect with their target audience, and increase productivity. It allows you to manage your contacts, track leads, along with scheduling calls all in one place.
Types of CRM dialers
There are different types of CRM dialers available in the market, including power dialers, progressive dialers, as well as predictive dialers.
Power dialers
CRM with power dialer is a type of CRM dialer that automatically dials a list of phone numbers, one after the other. It is designed to increase the efficiency and productivity of sales teams by reducing the time spent manually dialing numbers. This dialer is the perfect solution for businesses seeking to rapidly connect with a multitude of potential leads.
Preview dialers
Preview dialers are a type of CRM dialer that allow sales agents to view information about prospect before making a call. This type of dialer automatically dials a phone number, and when the call is answered, the agent can view the prospect's information and tailor their pitch to their needs. This is a perfect choice for businesses looking to create more personalized and successful sales calls.
Predictive dialers
Predictive dialers are a type of CRM dialer that uses an algorithm to predict when a sales agent will be available to take the next call. This type of dialer automatically dials multiple phone numbers at once, and when a live person answers, the call is connected to the next available agent. If your business is looking to increase the number of calls you can make in a shorter amount of time, this type of dialer is an ideal solution.
Key features of the best CRM dialers for 2023
Below are the key features of the best CRM with dialers:
Contact management
Efficiently storing and organizing customer information
Easy access to prospect data
Automatic dialing
Streamlining the call process
Reducing the time spent dialing manually
Lead generation
Identifying potential customers
Nurturing leads to convert into sales
Sales automation
Automating repetitive tasks
Improving productivity along with efficiency
Call recording
Recording conversations for future reference
Monitoring and improving sales techniques
VoIP integration
Making calls through the internet
Lowering costs as well as increasing mobility
Campaign management
Creating, managing, and tracking marketing campaigns
Measuring campaign success
Lead scoring
Assessing the potential of leads
Prioritizing follow-up actions
Analytics and reporting
Tracking performance metrics
Identifying areas for improvement
Mobile CRM
Accessing CRM features on the go
Improving responsiveness to customer needs
Customer segmentation
Grouping customers based on characteristics
Personalizing sales and marketing efforts
Appointment scheduling
Organizing and scheduling meetings with prospects
Improving time management
Task management
Organizing and delegating tasks
Improving team collaboration
Email integration
Syncing email with the CRM system
Improving communication with potential leads
Social media integration
Syncing social media with the CRM system
Improving communication and engagement with prospects
Predictive dialing
Automatically dialing the next available lead
Increasing the number of answered calls
Interactive voice response (IVR)
Automating interactions with users
Improving efficiency along with reducing costs
Power dialing
Dialing multiple leads at once
Increasing the number of answered calls
Call center integration
Integrating the CRM system with call center software
Improving communication and collaboration between teams
Cloud-based CRM
Accessing the CRM system from any device with internet access
Improving flexibility as well as scalability
Benefits of using CRM Dialers
Using a CRM with dialer can bring a lot of benefits to your business, including:
Improving sales and customer management
With a CRM dialer, you can automatically track customer data, make calls, and schedule appointments. This makes managing your sales process and tracking customer interactions much more accessible.
Streamlining business operations
A CRM dialer automates mundane and repetitive tasks, helping your team to be more productive with their time. This leads to improved operations as well as giving them the freedom to concentrate on higher priority projects.
Enhancing team collaboration and communication
Dialer CRM make teamwork seamless and communication effortless. By integrating CRM into your platform, all team members can stay informed of the most current customer information from one single source – leading to optimized decisions that result in greater client satisfaction.
Increasing productivity and efficiency
A CRM dialer can automate repetitive tasks and help you prioritize your leads. This can free up time for your team to focus on more important tasks and increase your conversion rates.
Importance of choosing the right CRM dialer
Choosing the right CRM dialer is crucial for the success of your business. Here are a few reasons why it's important to choose the right CRM dialer:
Tailoring the CRM system to the specific needs of your business
When selecting a CRM dialer, it is essential to select one that caters specifically to your business's needs. This will provide you the opportunity to not only optimize efficiency but also reinforce communication between teams for optimal results.
Staying competitive in the market
CRM dialers provide a competitive edge to businesses in the market. It is essential that you stay ahead of your competitors by using the latest CRM technology and strategies. Doing this will help ensure you maximize customer engagement and sales opportunities.
Maximizing ROI
Using the right CRM dialer can help you maximize return on investment and ensure the highest customer satisfaction, sales, and operations performance. It is essential to choose a solution that provides features specifically tailored to your needs to achieve optimal results.
List of the best CRM dialers for 2023
When it comes to finding the best CRM dialer for your business, there are a lot of options available. Some of the top CRM dialer options for 2023 include:
1. Salesmate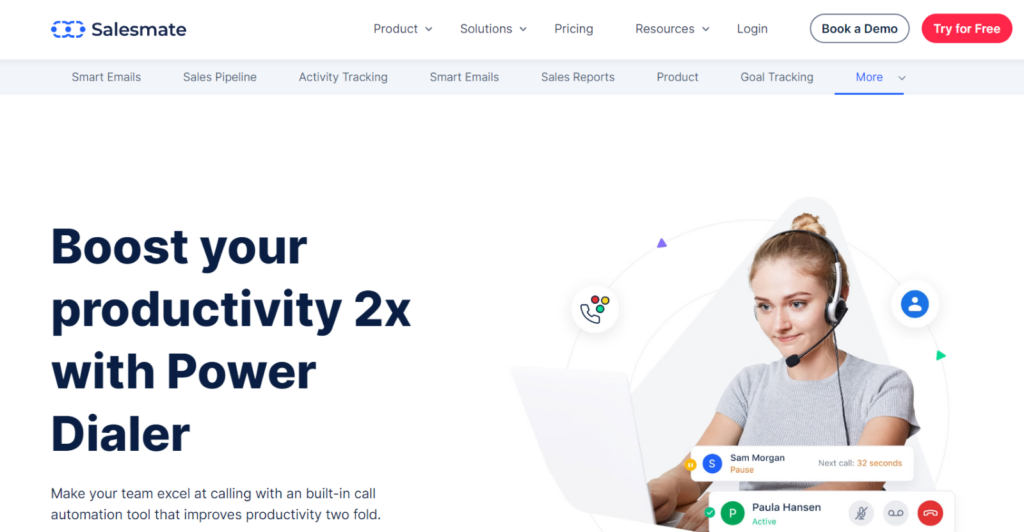 Salesmate CRM is a powerful all-in-one solution for streamlining sales and marketing processes. One of the key features of Salesmate is its advanced call management capabilities. It is an advantageous VoIP-based phone system that affords businesses, the perfect opportunity to maximize their customer service.
With Salesmate, you can easily manage as well as transfer calls, track call history seamlessly, and with extraordinary speed through its power dialer feature. It also facilitates seamless forwarding of calls to the right team member when needed. Moreover, you can avail of its automatic call distribution for better customer service while using mobile or web applications from anywhere in order to make a call.
Additionally, Salesmate provides call recording feature as well, which can be used to review customer interactions and improve customer service. Along with these, it also offers various other features such as sales and marketing automation, lead management, live chat, email automation, and much more which can help you take your business to the next level.
2. Bitrix24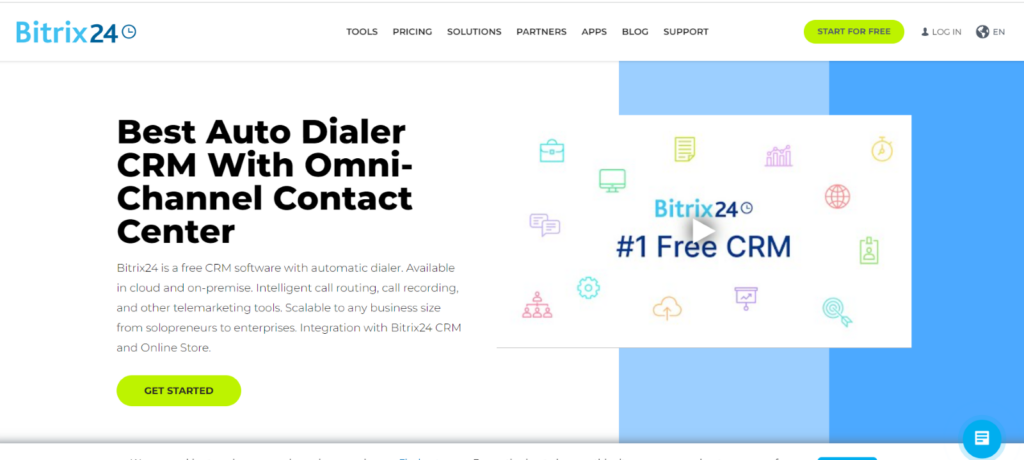 Bitrix24 is a comprehensive CRM solution that help businesses track leads, sales, and support activities, as well as collaborate with their teams in real-time. It also includes a robust telephony system featuring an automated dialer, call center software, and other caller-related tools.
This virtual PBX supports call queues, transfers, recording, voice mail, and more. Phone calls are logged and recorded, and incoming calls are automatically routed to assigned managers. It is available on various platforms, including computers as well as mobile devices.
The automated dialer feature helps increase calling productivity, and the call center software improves efficiency in customer interactions.
3. AgileCRM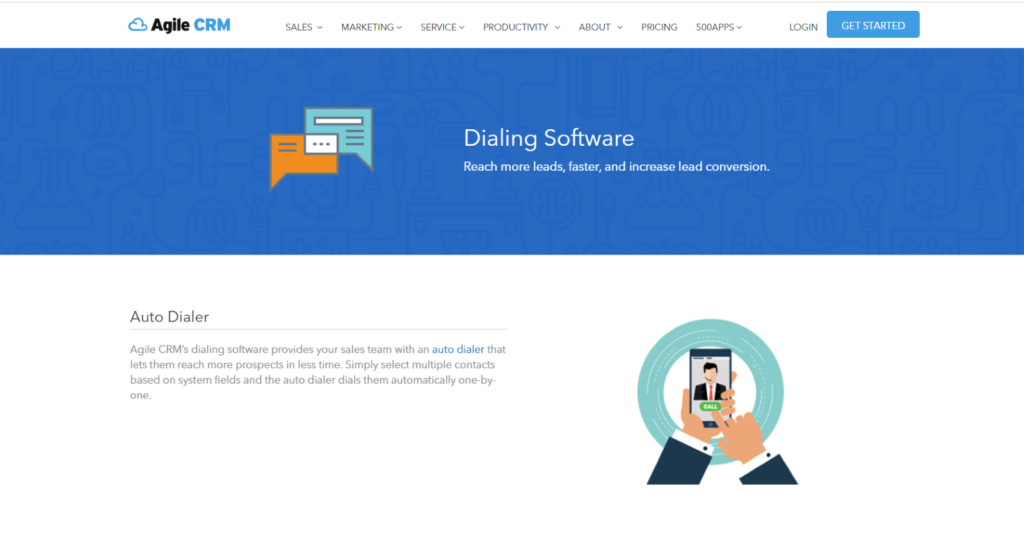 Agile CRM is a customer relationship management software with a powerful auto dialer feature that allows businesses reach out to multiple prospects simultaneously. The auto dialer enables users to make one-click dialing, call recording, call logs, outreach analysis, reporting, and more.
It also provides the ability to select multiple contacts and dial them one by one, either automatically or manually. The feature also allows you to receive calls from your contacts without ever leaving your CRM, maintain insight into caller details with quick views of customer information, and stay on the top by receiving an automated alert for missed calls.
Additionally, the call reporting feature gives you regular email reports about the call activity of your staff that help manage performance, identify areas of improvement, and ensure everyone is staying on task. Agile CRM also offers VoIP integration and works with Twilio.
4. HubSpot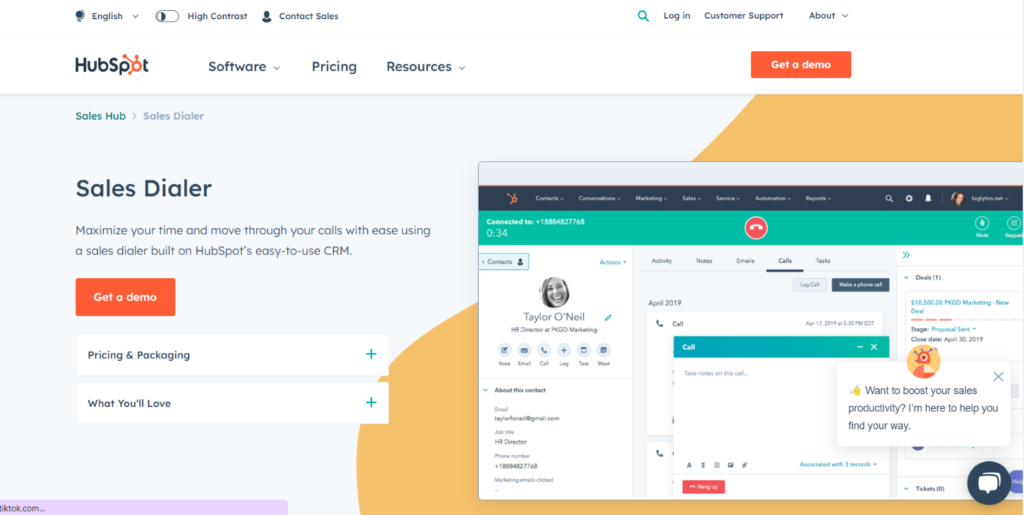 HubSpot's sales dialer is an easy-to-use, built-in CRM tool that streamlines the sales process by allowing sales reps to make calls directly from the contact record. With this, sales reps can easily access crucial and up-to-date customer information, such as deals, conversations, support tickets, or anything that could optimize the sales process.
The sales dialer offers convenience and efficiency to sales reps by having everything they need in one place. With a single click, it's easy for them to make calls, take notes, and review contact records. Plus, the dialer has an impressive feature that allows you to prioritize calls based on contact data, so your team never wastes time on low-priority tasks.
It also keeps your CRM data up-to-date and accurate by logging notes along with details from your calls directly on the contact record. With HubSpot's CRM uniting your customer data, you can view a contact's information, activities, and deals in one place when making sales calls.
5. Aircall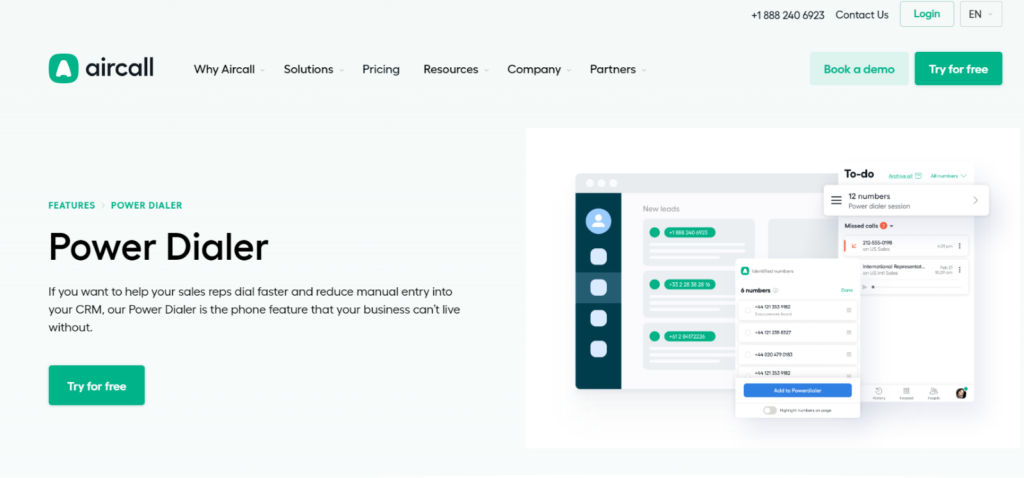 Aircall is a cloud-based call center as well as phone system designed for modern businesses. The platform is built to be accessible, transparent, and collaborative, making it easy to manage phone support. The platform also integrates seamlessly with popular productivity as well as helpdesk tools. Additionally, Aircall offers a power dialer CRM for efficient sales.
CRM with power dialer allows sales reps to quickly compile a list of numbers and call through them all in just one click, saving valuable time. It also eliminates repetitive manual tasks by automatically adding numbers to your queue, and integrates with Salesforce or other CRM of your choice.
During each call, Aircall's Power Dialer will display up-to-date prospect information to the agent directly on the Aircall app as a screen pop-up, allowing for a more streamlined and efficient sales process. The text encourages readers to upgrade their sales game with Aircall's Power Dialer.
6. AstTECS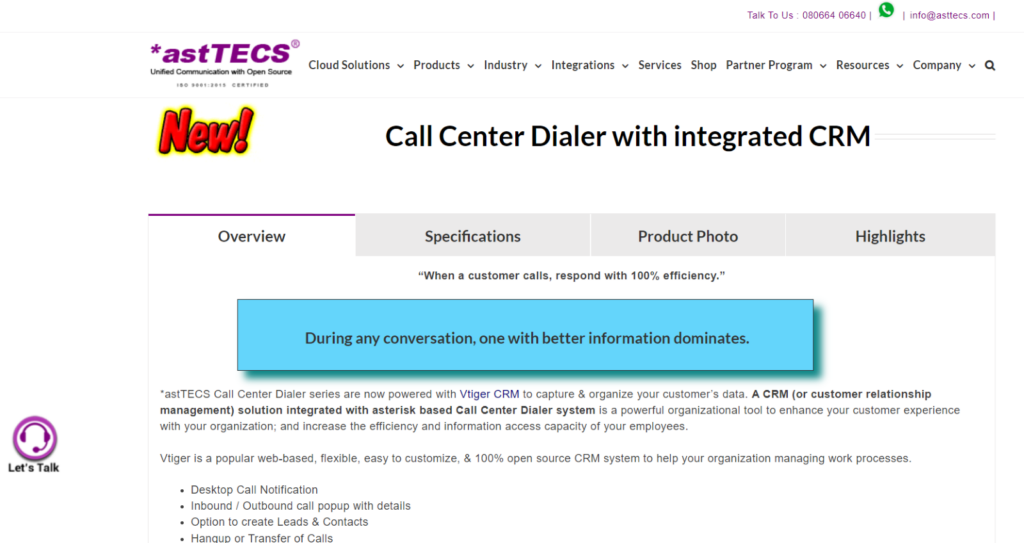 AstTECS Call Center Dialer series is a powerful organizational tool for businesses that enhance customer experience and increases employee efficiency. It is now powered with Vtiger CRM, a popular web-based, flexible, easy-to-customize, and 100% open-source customer relationship management system.
This integration allows business to capture and organize customer data, making it easier to manage work process. Some key features of the astTECS Call Center Dialer include desktop call notification, inbound/outbound call pop-up with details, the option to create leads or contacts, the ability to hang up or transfer calls, and the ability to make calls directly from the CRM.
This feature set makes astTECS an ideal solution for any business looking to streamline its call center operations, and improve its customer experience.
7. CallFire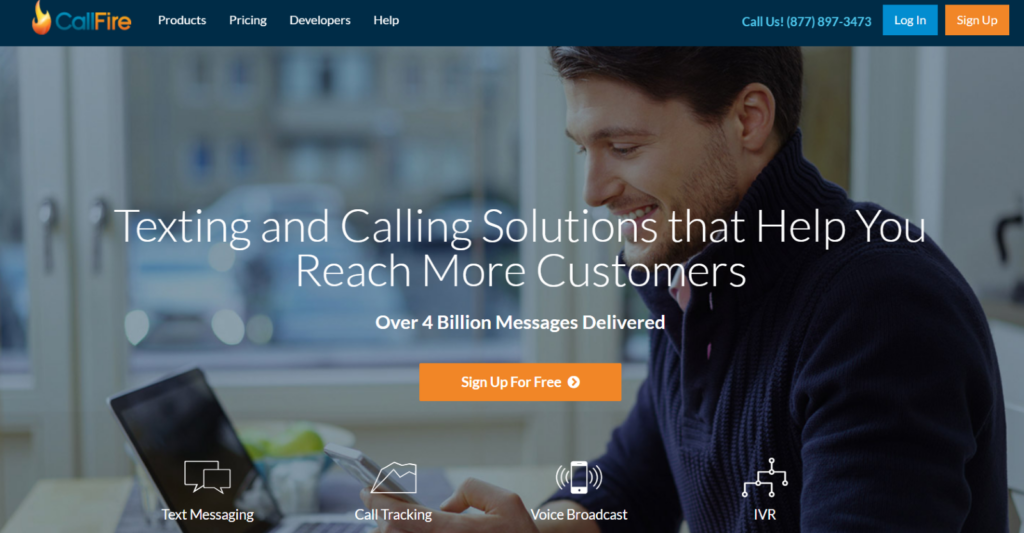 CallFire is a sales dialer and CRM tool that provides business with various features along with products to help them reach more prospects, and increase revenue. In includes various service such as text messaging, call tracking, voice broadcasting, and Interactive Voice Response (IVR) systems.
CallFire offers business the ability to customize messages for every one of their customers effortlessly, monitor campaign performance, and streamline collection procedures. Its solutions make it easy to ensure that campaigns are running smoothly with maximum efficiency.
Moreover, CallFire also provides CRM with auto dialer feature that allows users to dial customer numbers and transfer or record calls automatically. This automated system helps sales reps quickly reach customers and make their workflow more efficient.
8. Shape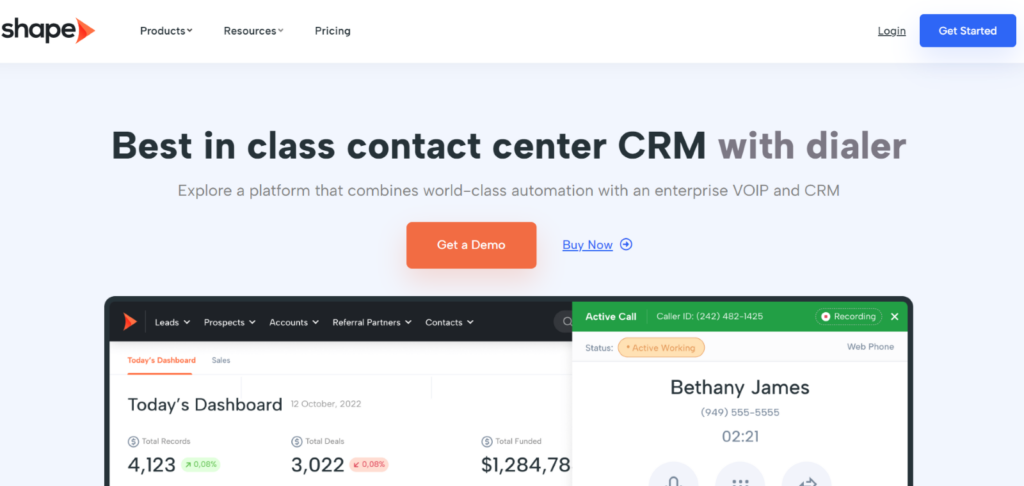 Shape is a CRM dialer software built directly into a sales and CRM platform. The software offers several features to help companies capture more leads and improve caller efficiency.
The software provides various features such as automation, one-click call, accelerated sales, improved call quality, heads-up display, local presence, predictive dialer, etc., which helps increase productivity as well as efficiency.
The software also offers an integrated workflow to streamline operations and an all-in-one dialer solution that can capture quality leads and handle both inbound or outbound calling. Additionally, it has a built-in auto dialer directly from the interface, which allows users to easily manage all their prospects in an organized way from one platform.
Conclusion
In conclusion, CRM dialers are a critical component of a successful customer relationship management system. CRM dialer is software that automates calling leads, making it easier for businesses to connect with their target audience, and increase productivity.
The different CRM dialers include power, preview, as well as predictive dialers, each designed to meet specific business needs. With the right CRM dialer software, businesses can easily capture more leads and improve caller efficiency, allowing them to reach their desired outcomes quickly.