Freelancing seems to be a cool and easy job. Full time employed people many a times envy freelancers for the fact that they can work from a cafe or a holiday destination, enjoy their personal life whenever they want and get paid easily from clients for their timely work. Aah! Life is so easy and enjoyable for them.
Well, true these are the benefits of freelancing but there comes a huge responsibility too. They need to track their time or number of hours worked for multiple projects, manage projects deadline and deliver work accordingly and most importantly they need to create custom invoices to get paid on time. Invoice management for various projects having different payment terms becomes a tedious job when there are so many other important tasks as well to look after for.
Minterapp here can help freelancers or even a small team with its insanely simple interface to create and manage online invoices. Let's explore how.
The tool allows you to create online invoices as per your requirement with a simple click. Let me walk you through the step by step process.
To automate the invoice creation process, we have introduced some simple check points from the starting of your project creation step.
Project creation: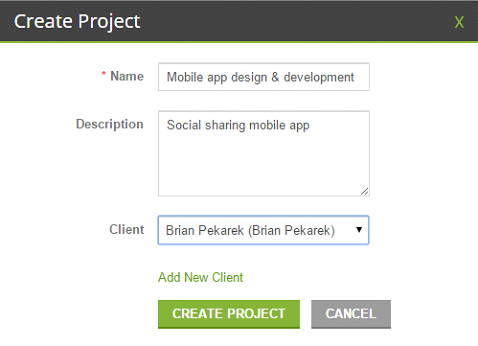 Fill out the data as shown in the above sample. Click on create a project tab and you will get a short form to map the primary details like client name, company information, along with Invoice Method. This field has 5 options to choose from.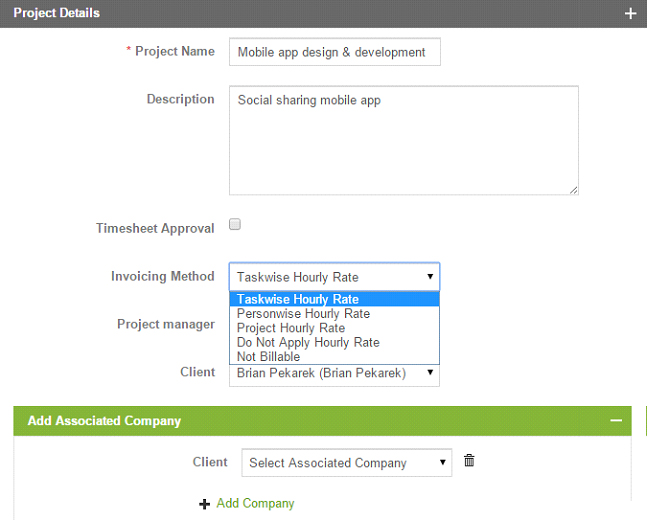 If your project is based on task wise hourly rate, simply choose that option while creating the project. If it is based on different payment terms select another appropriate option from the drop down list.  Then map users who are involved in the project.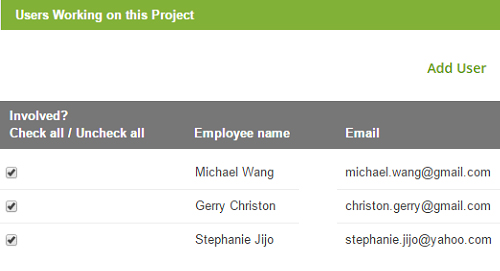 Add project related tasks and mark them billable. Add hourly rate for each task. Skip billable and hourly rate check box for those tasks which need not to be included in the invoice. Those tasks can be viewed from project list interface.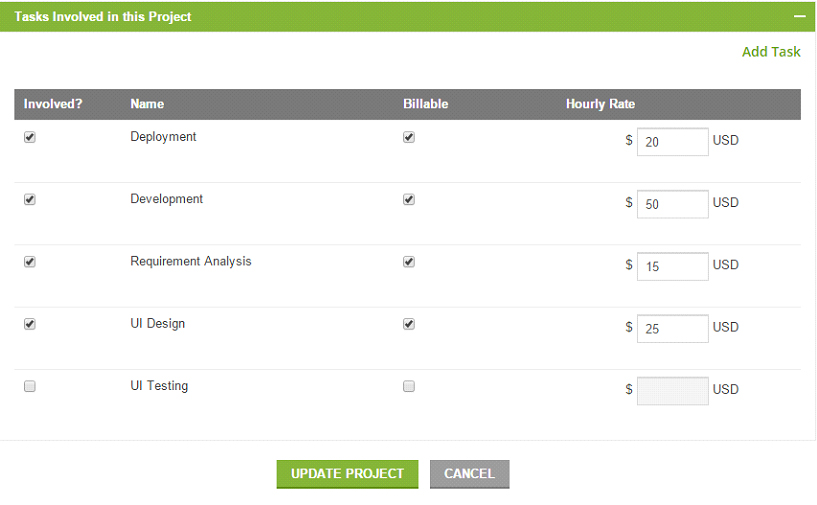 And click on update project. That's it. Now, simply start logging hours for created tasks in the system from time sheet view as and when you work on the project. Of course you can track your daily, weekly and monthly tasks and hours logged from the system itself. Wow, isn't it that simple?
Now when you create an invoice for project based on task wise hourly rate, the system will automatically fetch the details of hours logged, billable tasks, users involved in the project and populate them in the invoice view. The entire hassle of managing hours, tasks, users manually is reduced to zero.
Invoice Creation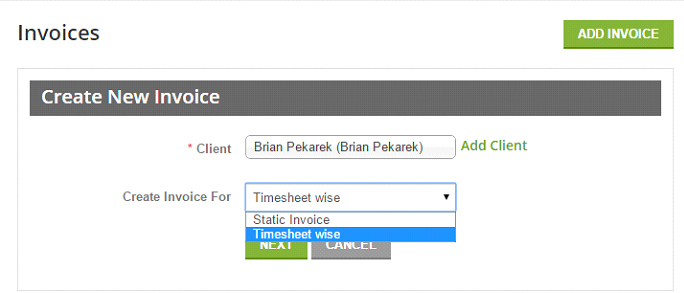 If you project is based on fixed cost method select static invoice and if there are various payment terms then select time-sheet wise invoice method. Once you click on invoice creation tab, the following screen will appear.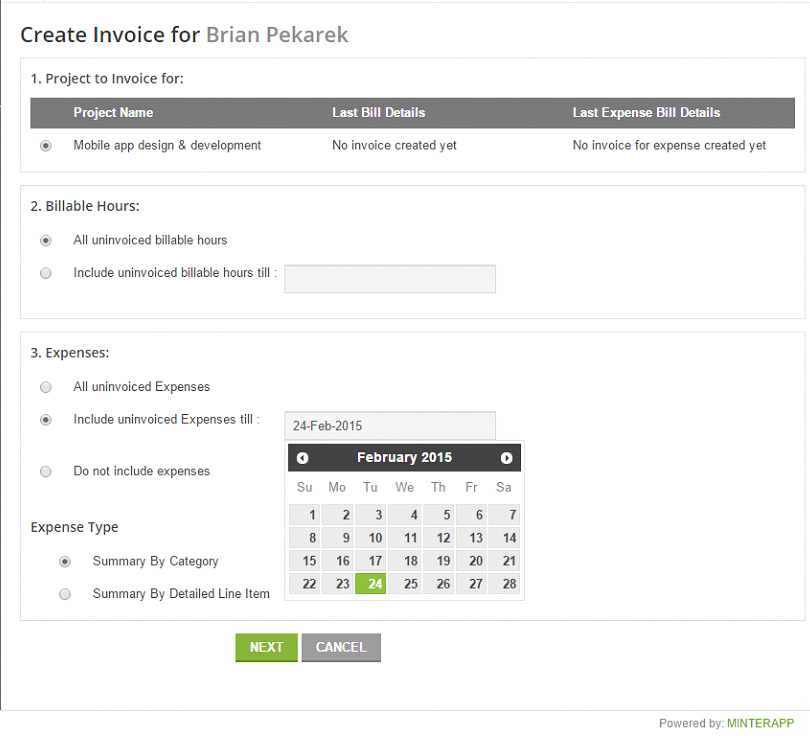 If you have logged expenses for your project from the expense log interface of the system, then you just need to enable it from this screen to include it in the invoice. You can choose specific dates also for billable hours and expenses. Click on next tab and the system will generate invoice number automatically and navigate you to below displayed screen.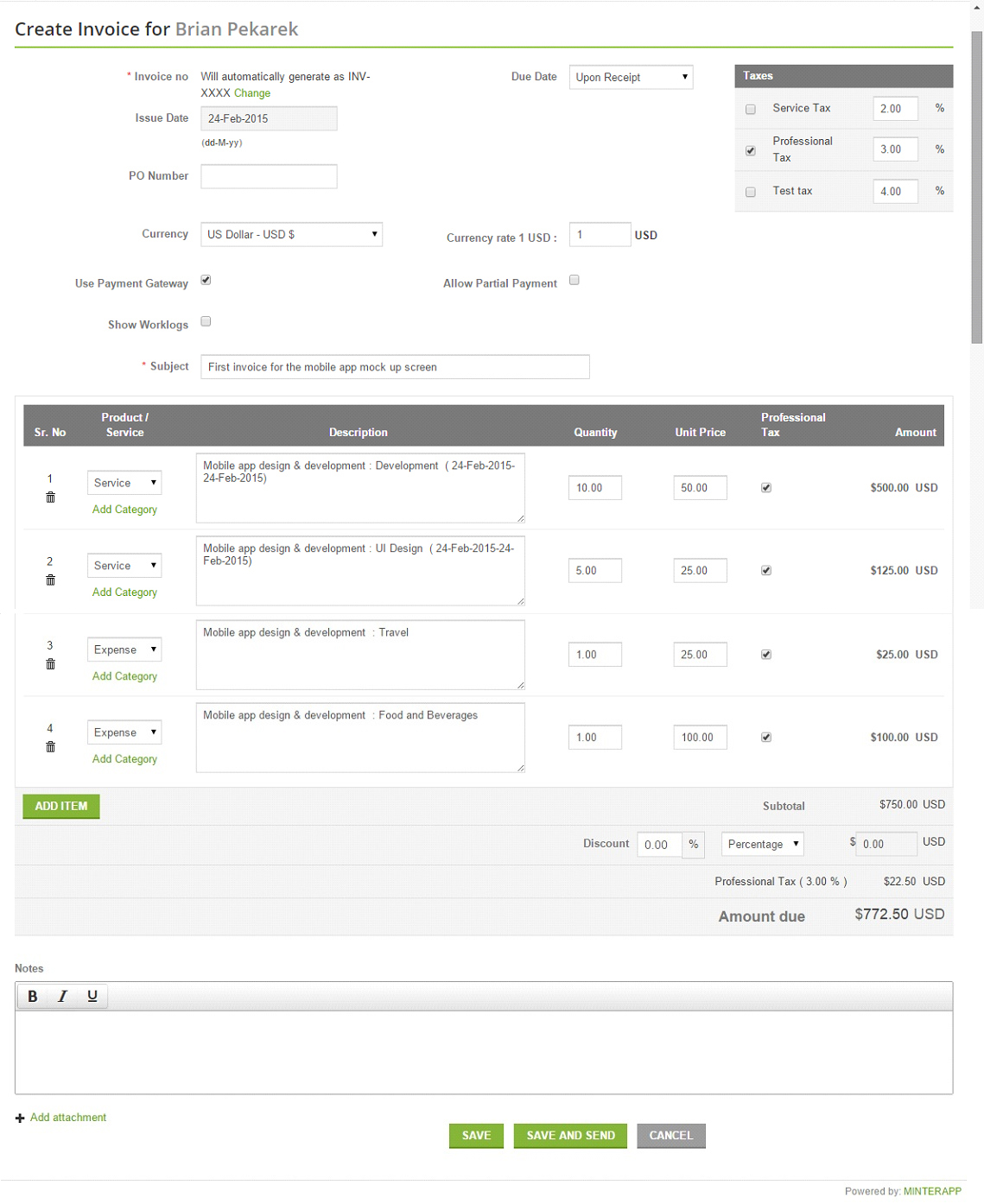 Did you notice that apart from basic information mapping, you get some more cool fields as well to make things easy?
You can include taxes and discounts in the invoice
Choose when to get paid from the options like upon receipt, after 10 days, 15 days or so.
Select desirable currency in which you want to get paid and also get to know the conversion rate from the same interface.
You can also offer partial payment to be made by client
Add notes at the time of creating invoice
You are now just a few clicks away from getting paid. If you click on save button, your invoice gets recorded in the system with draft status and you get the option of sending invoice after reviewing it thoroughly again.
Once you are sure to send it, simply email your customers a link to a live invoice by clicking on send invoice button.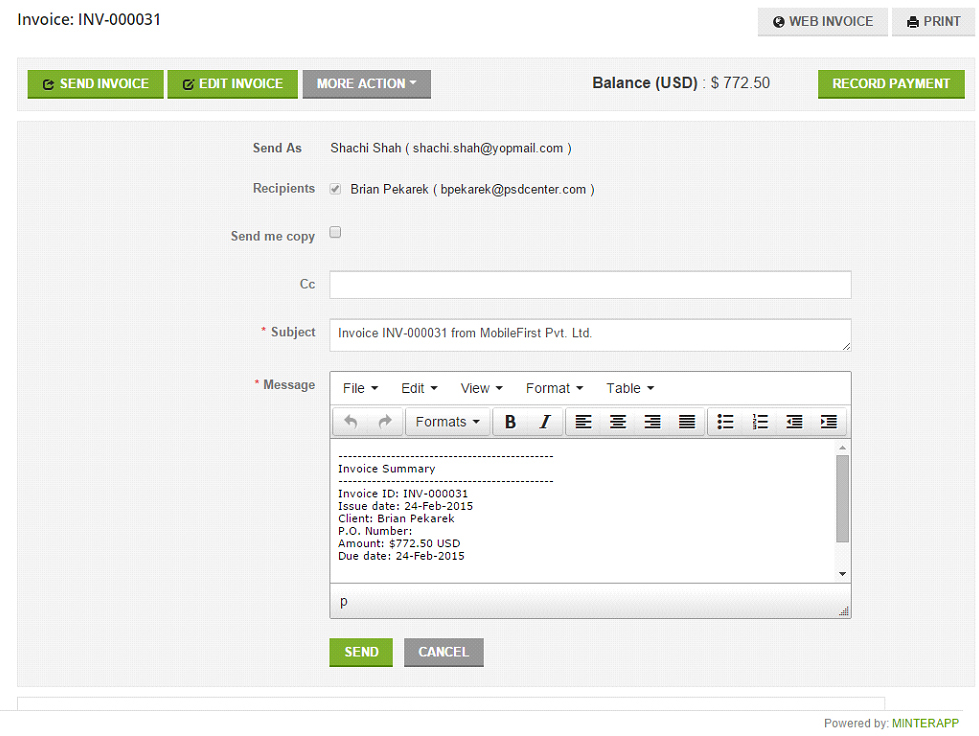 Once you send the email, you get option of send reminder with predefined email template, which you can edit or customize at any time. Simply remind client by clicking on send reminder tab.
You can also mark the invoice as recurring invoice or create copy of it from 'More Action' button.

If the client wishes to pay via bank transfer or cash, click on record payment, fill out the necessary information and send it across to your client.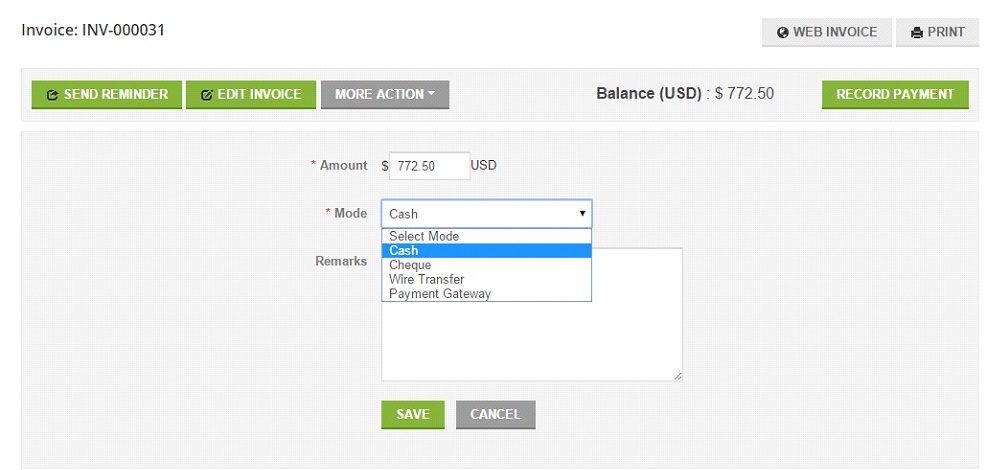 Generated invoice shows the most up-to-date details, including payment status and a 'Pay Invoice' button for accepting payments online. You and your client can both see the same documents at the same time.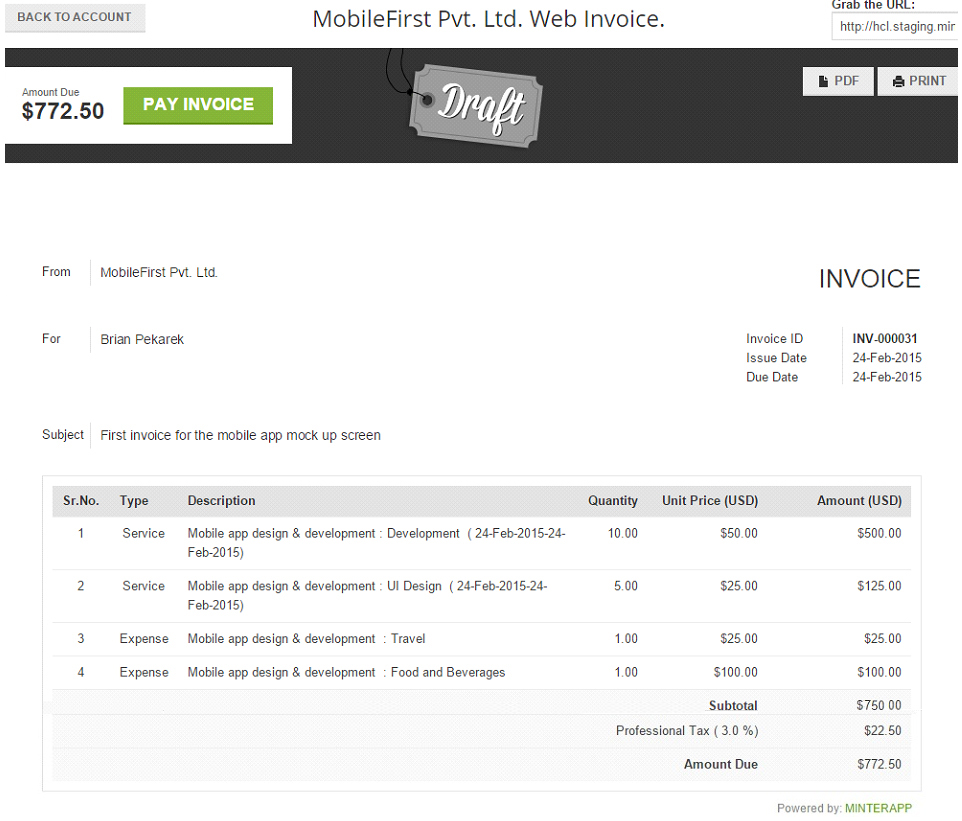 Invoices can be automatically loaded into Minterapp, with the associated PDF saving manual file uploads and data entry time. This closes an important loop in the relationship between businesses and customers. Financial transactions are being recorded in real-time, so the gap between money flow and business record keeping is eliminated and handled automatically.
With Online Invoicing, now you can accept payments online, with a just simple tap of a button. Paying online is dramatically faster and simpler for both you and your client. Moreover, you can now know when your invoices have been viewed. Meanwhile your client can see the most up-to-date status of payments, including all outstanding and overdue payments. This will help you get paid faster.
Over the last 3 years we've invested heavily in building a easy to use online invoicing feature which helps our customers to connect with their customers faster with easy flow of money and data. This is where we believe the internet is fundamentally changing the way people handle their financial transactions. Every small or large business will be electronically connected.
Try Minterapp for Free today and enjoy getting paid faster with ease.